Important Notices Regarding COVID-19 (Coronavirus)
Important Notices Regarding COVID-19 (Coronavirus)
Posted April 01, 2020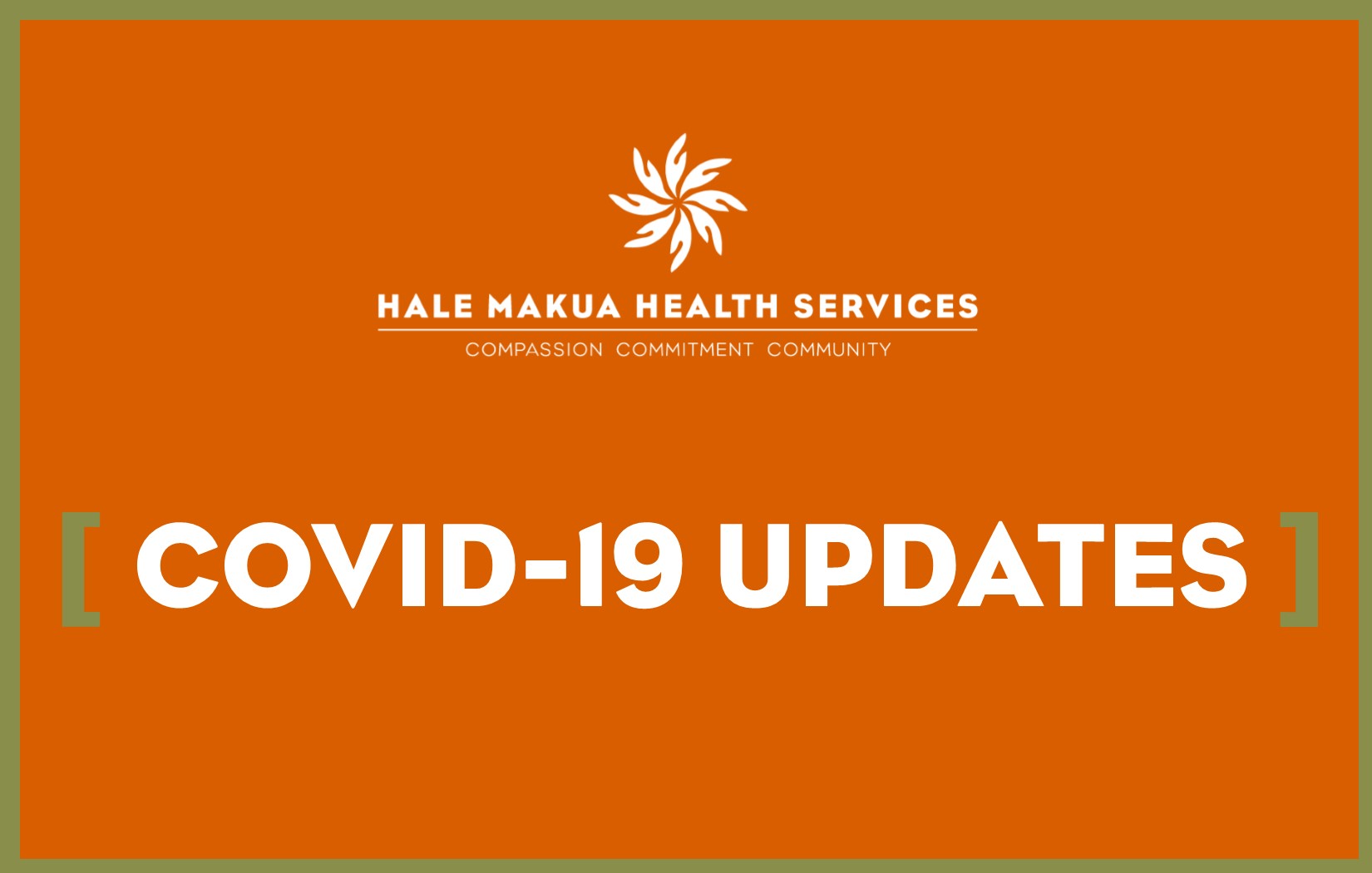 Updated April 1, 2020
For the protection of our residents, we are still limiting visitations. We understand that connecting with family members is incredibly important. We currently have Skype and Google Meet available for family members to make visual contact. If you are interested in setting up a video call, please contact:
Kahului campus: Teresa Lopes, Kahului Activities Director - (808) 871-9259
Wailuku campus: Jordan Kahiamoe, Wailuku Activities Director - (808) 243-1712
We are also accepting donations of personal protective equipment (PPE). To make arrangements for a donation, please contact the Office of Development at (808) 871-9271.
Updated March 20, 2020
Out of an abundance of caution to protect the health and safety of our Hale Makua residents, providing residents with outside food will no longer be permitted.
Updated March 13, 2020
During this COVID-19 (coronavirus) pandemic it is critical that healthcare providers caring for the most vulnerable population take every precaution possible to protect the health and safety of residents, clients, patients and employees. Hale Makua Health Services is making every effort to prevent this virus from entering its nursing and adult residential care homes, which will include limiting visitors:
EFFECTIVE MONDAY, MARCH 16, 2020
Hale Makua Kahului and Wailuku Campuses – In an abundance of caution for the safety of our kūpuna, we are requesting the public's assistance in refraining from visiting our campuses unless visitation is needed for end-of-life situations or the mental well-being of the resident. Any visitors who meet this criteria will need to get prior approval from the nursing home Administrator prior to visiting. For individuals who have loved ones residing at Hale Makua, we encourage calling, emailing, texting, or video chatting during this time.
Rehab by Hale Makua – Outpatient occupational, physical and speech therapies will be temporarily halted.
Home Health by Hale Makua - Continues to service its home-bound patients in need of skilled nursing and therapy services across Maui.
Adult Day Health by Hale Makua – Remains temporarily closed.
Despite the impact COVID-19 prevention is having on our operations and community, Hale Makua is still hiring. However, effective today, we will require virtual interviews using Skype, Facetime or similar video conferencing means in lieu of in-person/on-site job candidate interviews. This change is being made to help protect our residents and staff from unnecessary potential exposure.
Updated March 6, 2020
In order to ensure the safety and protection of our residents and staff during the COVID-19 (Coronavirus) pandemic, we are following recommendations from the Centers for Disease Control (CDC) as well as the Department of Health regarding this virus.
We have educated employees on the signs and symptoms of COVID-19, prevention measures, and have asked employees to stay home if sick or having traveled to a Level 2 or Level 3 country on the CDC Travel Advisory List. In addition, we are prepared with a 14-day supply of food, water, and other supplies needed to care for residents on hand.
As we continue to closely monitor this emerging outbreak, we ask for your assistance in helping to prevent the spread of infection and protect our kūpuna.
If you or a member of your family is ill, please do not visit until you recover.​
Visiting hours:

Hale Makua Kahului Campus: 7:00am – 7:00pm. If you are in the building by 7:00pm, you may stay as long as you like. Only the Weinberg entrance near the Ilima and Pikake neighborhoods will be open.
Hale Makua Wailuku Campus and Care Homes by Hale Makua: 7:00am – 8:00pm. If you are in the building by 8:00pm, you may stay as long as you like. Visitors must enter through the Main Street entrance.

If you come to visit, you will be required to stop at the entrance and have your temperature taken. If you do not have a fever, you will be given a sticker to wear while in the facility and be allowed to visit that day. If you have a fever, you'll not be allowed to visit, and it is recommended you see a doctor. You will need to have your temperature taken every day you visit and get a new sticker.
If you have recently visited any of the CDC high risk countries, including but not limited to China, Japan, Korea, Iran, Italy, Hong Kong, Singapore, Taiwan and Thailand, please do not visit the facility until you have been home 14 days without any symptoms, including fever.
If you had contact with someone who has or is under investigation for having COVID – 19, please stay home.
Wash your hands thoroughly and often with soap and water. Also, use the hand sanitizer we provide.
Get your flu vaccine; it's not too late.
Please remember that the elderly and immunosuppressed are particularly at extremely high risk for complications with the flu, COVID-19 coronavirus and viruses in general. It's important for all of us to follow the above precautions to keep your loved ones safe.
We appreciate your assistance in helping to prevent the spread of infection and protect our kūpuna.
Follow Hale Makua on Facebook, Instagram or Twitter for the most current information.