20 Years of Service with a Smile
20 Years of Service with a Smile
Posted February 22, 2019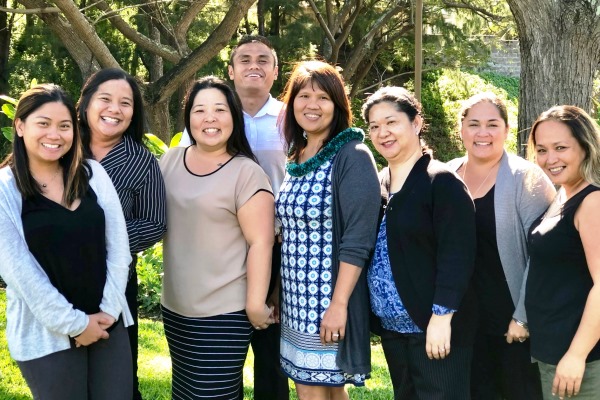 In 1999 Redolyn Miguel started her career at Hale Makua as the Business Office Clerk and was promoted into her current position of Financial Services Assistant. Redolyn plays a vital role in our Business Office today, she posts payments and processes payroll for over 450 Hale Makua employees.
Her coworkers (pictured here with Redolyn, third from the right) will tell you that she is very dependable and committed to her job. She's self-motivated, enthusiastic and takes pride all areas of her work. After 20 years, Redolyn comes to work with a smile and is always willing to lend a helping hand.
For Redolyn, the longevity and commitment to Hale Makua has come easily, "the love and compassion that surrounds this place, and the relationship that I have developed with my peers, it's like my family away from home."
Over the years, Redolyn has seen many changes and challenges, something that has grown her love and appreciation for her job. "The challenges that I have faced throughout the past 20 years made me a stronger person and I am truly grateful for that."
On top of the incredible work she does in our Business Office, Redolyn is known by many for her incredible culinary skills, especially her desserts. From her famous poi mochi to her cassava, ginataan and every other sweet treat she makes, she definitely keeps the sweet tooth of Hale Makua staff satisfied.
We are incredibly lucky to have employees like Redolyn who have devoted so many years to our mission and our organization. Mahalo for 20 years of enthusiasm, hard work and commitment to our kupuna!