40 Years of Dedication
Posted July 14, 2016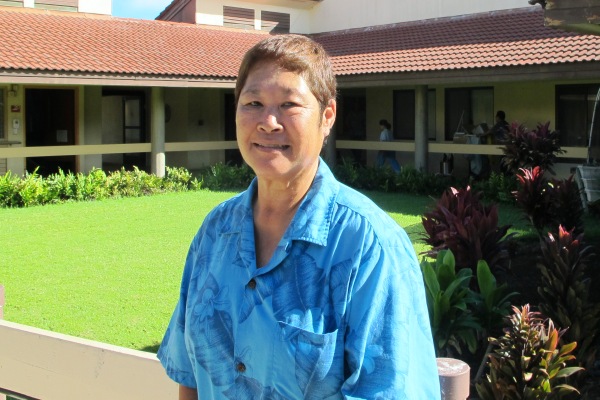 Charlene Kuhia began working at Hale Makua Health Services in 1976 while her mother and grandmother were also employees with the organization. Now, four decades later, Charlene looks back at simple and humble times to what has grown into an organization that employs over 450 people and has cared for hundreds of individuals with round the clock operations.
For the past 40 years Charlene has dedicated her time and service to the Nutrition Services Department, also known as the Kitchen. She has worked in every position within that department and has found her niche as a Kitchen Helper, a position she has held since 1982. Charlene says simply, "the reason I continue to work here is because I like my job."
Saundra Gaskey, Nutrition Services Director and Rosie Kahiamoe, Nutrition Services Manager said, "Charlene is one of the most dedicated, caring, helpful, and knowledgeable employees here at Hale Makua. After 40 years of service, she has probably met more residents, family and staff than anyone has while working in the Kitchen. We are sure she can share many light hearted stories about all of her experiences. She has been involved with many many changes and seen a lot of kitchen transformations during her time…and survived them all! People most identify her for her fortitude and strength. But honestly, Charlene is one of the most humble people you will ever meet."
We are ever so grateful for Charlene's commitment to the Kitchen and Hale Makua Health Services, but more importantly we are honored for knowing her and having her part of our lives. The commitment she has shown to our residents and our entire organization is very rare in this day and age. Charlene, we commend and congratulate you on 40 years of service!