Board of Directors Elects New Director and Officers
Board of Directors Elects New Director and Officers
Posted April 18, 2019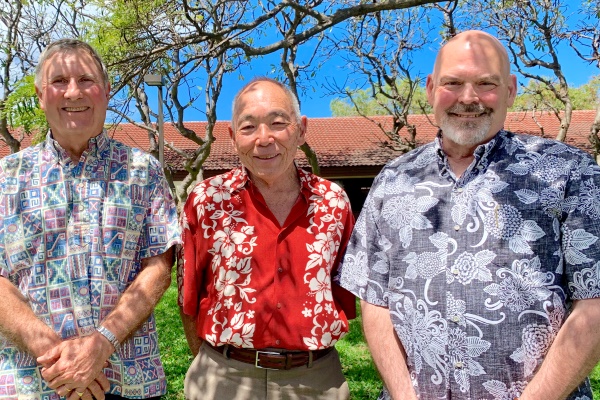 Our Board of Directors recently appointed Ed Romson (pictured right) as the new Board Chair, Roy Sakamoto (pictured center) as Treasurer, and Alec McBarnet (pictured left) as Secretary of the Board. In addition, the Board has elected Betty Leis to a five year term as a Board Director. Betty joins a group of 20 other volunteer Board members who are committed to ensuring that the organization continues to improve the well-being of those in our care through compassionate, personalized health services in our homes and in the Maui community.
Ed joined the Board of Directors in 2017, and shares, "I am honored to accept the position of Chair of the Board of Directors at Hale Makua Health Services. My family's association with the organization goes back to 1960 when my Mother came to work as the Director of Nursing at Hale Makua Wailuku. She retired from Hale Makua after 20 years of service, and went on to volunteer for another 20 years. When it came time, she entered Hale Makua's Care Home and finally passed peacefully at Hale Makua Wailuku. I want to give back to Hale Makua and share the aloha staff and residents share with my Mother."
We are grateful to outgoing Board Chair, Donna McCleary, MD, for her tremendous dedication to Hale Makua over the past 10 year.