Celebrating Our Volunteers
Celebrating Our Volunteers
Posted April 19, 2018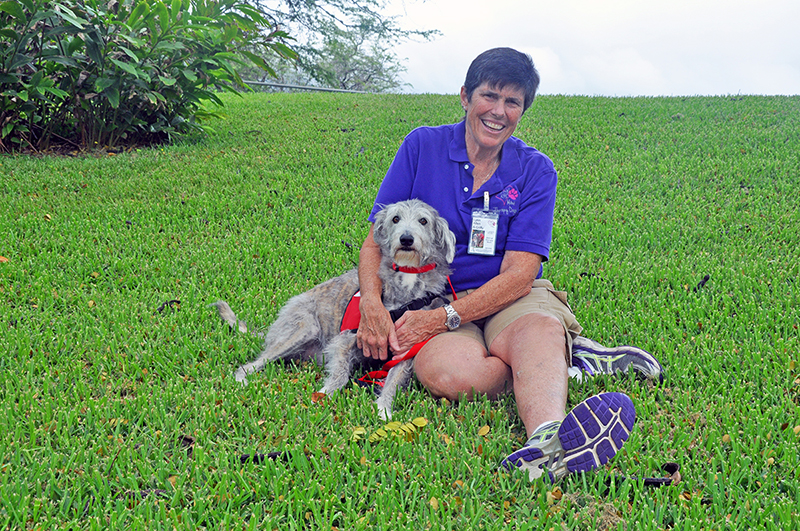 This week, as we celebrate National Volunteer Appreciation Week, we are incredibly grateful for volunteers like you! Hale Makua Health Services is fortunate to have over 100 volunteers who actively play a role in the lives of our residents every day. From pet visits (like Griffy and Lynn from Caring K-9s Maui pictured here) to serving meals, talking story, transporting residents, providing entertainment and everything in between, we are thankful for their time and talents and all they do for residents at Hale Makua.
In 2017, 100 volunteers provided a total of 6,764 hours of service to the organization. Individuals volunteer out of the kindness of their hearts, but we know just how valuable that time really is and see how much it means to our residents. Independentsector.org calculates a monetary value for volunteer time each year, and this year the hourly value of a volunteer in Hawaii is $23.80. This means that in 2017, Hale Makua volunteers have contributed over $160,000 worth of their time to Hale Makua.
Individuals call us nearly every day to inquire about our volunteer program, whether it's to gain experience in the field of health care, or simply to give back to our kupuna and community. We are grateful for each of them and the special connections they make with the residents. We often hear volunteers say that they came here to give back or get experience in healthcare, but they end up gaining more from the experience than they ever imagined.
The connections that we make with our elders and the insight we gain from listening to their stories and wisdom is something we could never put a price tag on. For those who come to spend their time and connect, we thank you, because of you our elders have meaningful relationships, reminiscing about precious times from their past, and spending their time with individuals with a big heart who care.
If you would like more information about our volunteer program, please call our Volunteer Coordinator at 808-871-9283 or get the online volunteer application here.