Celebrating Our Volunteers
Celebrating Our Volunteers
Posted April 11, 2019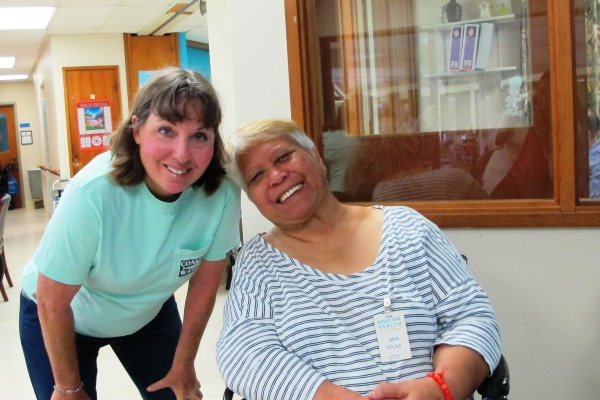 We celebrated National Volunteer Week April 7th - 13th by thanking our volunteers for their hard work and dedication to our homes and residents. In 2018, volunteers transported residents to their rooms from exercise 4,335 times, served over 13,800 beverages during social hour, and led 240 games of bingo.
With over 90 active volunteers in our homes, we are fortunate to have received over 4,600 hours of volunteer time. Volunteers help with serving meals, transporting residents, playing games, spending individual time with residents, going on outings, assisting at fundraising events, and assisting with clerical work.
We are so grateful for volunteers like Judy Stansbury, pictured here with Adult Day Health client, Geri Edlao, who shares, "I've been volunteering (at Hale Makua) for the past four years, and I find so much joy and happiness in coming here. I live nearby, so I can walk here, spend a few hours helping serve the clients in Adult Day Health, and go home. I really like what I do!" Judy comes three to four days a week and has given over 2,000 hours to our Adult Day Health program in 2018 alone.
To all of our volunteers, for all that you do, mahalo from the bottom of our hearts! If you're interested in volunteering, please contact danielles@halemakua.org or (808) 871-9283.