Community Partners Who Make Our Work Possible: Sakamoto Properties
Community Partners Who Make Our Work Possible: Sakamoto Properties
Posted February 20, 2019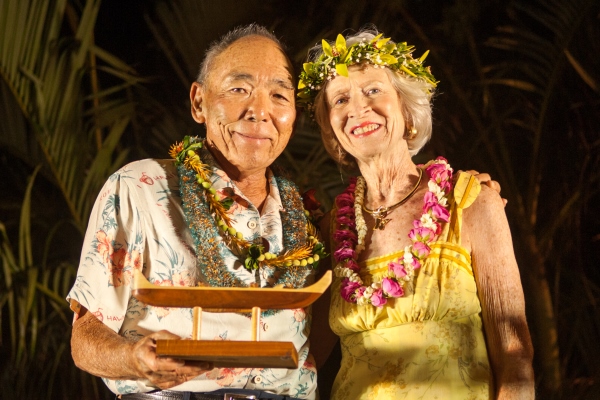 In 1976, Sakamoto Properties opened their doors and for the past 43 years, Roy and Betty Sakamoto have been helping people from all over the world fulfill their real estate dreams right here on Maui. Both Roy and Betty have a passion for their diverse community and a deep love for the island of Maui. Over the years, the Sakamoto's have played an instrumental role in planning, developing and securing funding for Hale Makua Health Services.
Roy became an avid supporter of the organization after his mother was a resident at Hale Makua, because of his admiration for the quality of care his mom received and the compassion of those who cared for her. His service to Hale Makua began in 1986 when he volunteered to serve on our Giving Committee, which at the time was responsible for the organization's fundraising efforts. Roy spearheaded the first annual Benefit Golf Tournament in 1987, and was instrumental in the organization being named the benefiting charity of the Kaanapali Senior Pro-Am Golf Classic through 2001.
The support and commitment from Roy and Betty and Sakamoto Properties has flourished over the years, and because of them, Hale Makua has been afforded many opportunities and funding partnerships that have helped the organization to grow and thrive. Among serving on our Board of Directors and numerous committees, Roy has been influential in advocating for Hale Makua and securing over $14 million dollars in funding both through capital campaigns and private funding.
Together with their company the Sakamoto's have donated over $73,000 to Hale Makua. From supporting fundraisers to sponsoring our events, Sakamoto Properties has pledged their support to our kupuna, our organization and our mission and we are so grateful for their continued partnership. In 2008, Roy was recognized for his leadership in philanthropy by the Association of Fundraising Professionals Aloha Chapter as Outstanding Volunteer Fundraiser.
Roy's commitment and dedication to Hale Makua is unparalleled. He is currently serving his sixth five-year term on the Board of Directors, and is the Chair of the Administration & Finance Committee and Board Treasurer. In addition, he is also a member of the Governance and Strategic Planning Committees.