Day Health Client Enjoys More Service
Day Health Client Enjoys More Service
Posted July 01, 2016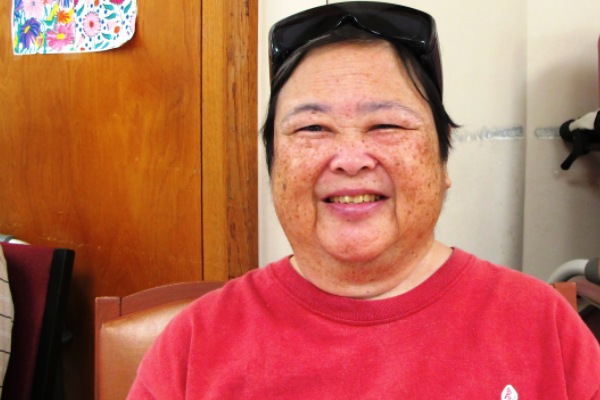 Joanne Nakagawa joyfully shares a smile as an expression of her happiness to be attending our Adult Day Health program five days a week! Joanne is a recipient of a scholarship made possible by The Harry & Jeanette Weinberg Foundation. Prior to receiving this scholarship, Joanne attended Adult Day Health just twice a week, but is now able to participate in the program and receive these much needed services daily.
Joanne has low vision and is independent with the use of a walker. Her mother was her primary caregiver until recent years to focus on her own health. Joanne now lives with friends and enjoys a more independent life with help available when needed. Joanne is fun-loving, outgoing, and is very glad to be attending Adult Day Health more often. She really looks forward to being here where she is able to exercise, go shopping, meet with friends, and play bingo twice a week. She enjoys being out of the house and the staff make her feel so welcomed every day.
Joanne's mother, Misao, is also extremely appreciative for the Adult Day Health program here at Hale Makua Health Services. Misao, like most mothers, was concerned for her daughter when she was no longer able to care for Joanne and did not have the means to pay for daily attendance to the Adult Day Health program. Misao is grateful for the financial assistance offered through the Weinberg scholarship. Now she rests assured knowing Joanne receives great care and is among friendly staff and people here five days a week.
Our Adult Day Health program offers assistance with activities of daily living to individuals that have a safe, secure place to return to at night. It is the only adult day healthcare program on Maui certified and licensed by the Hawaii Department of Health. The goal of the program is to maintain or restore to the fullest extent possible a client's ability to remain in their home and community for as long as physically possible, thereby preventing admission into a nursing home. The program also affords caregivers respite from the demanding responsibilities of care giving.
Additional funding for Adult Day Health is available through the Persons In Need (PIN) for Elderly Service scholarship. Applications can be obtained from the Hale Makua Health Services Development Office (Monday – Friday, 8:00 a.m. – 4:30 p.m.) located at 472 Kaulana Street in Kahului, by emailing kanoelanim@halemakua.org or calling (808) 873-6616.