Day Health Client Finds Joy in Helping
Day Health Client Finds Joy in Helping
Posted February 15, 2017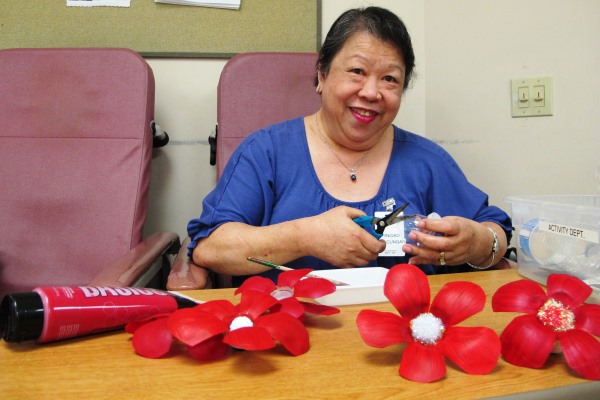 Trini Cabacungan has been a client of Adult Day Health by Hale Makua for almost a year, and with each day that goes by, her family finds more comfort and appreciation for the services Adult Day Health provides. The group of dedicated caregivers have opened Trini's eyes to new hobbies, new friends and a safe friendly environment.
"Before mom started coming here, she stayed home, took care of her grandchildren, slept a lot and wasn't getting much exercise or socialization. But now that she's attending Adult Day Health, she seems really happy. She exercises and has made a lot of friends!" says daughter-in-law, Erllie Cabacungan. Erllie also works at Hale Makua as the Maintenance and Equipment Coordinator. She shares that her mother-in-law was never one for crafting, but since going to Day Health it's a new hobby of hers, and something she seems to really enjoy.
Trini says "I've been helping the staff with a project to identify the residents here who are at risk of falling. I cut the tops off of water bottles, shape them into flowers, and paint them. It's been really nice to work on it and help others". Helping others is one of Trini's favorite things about coming to Day Health each day. "There are clients here with bad arthritis, but they want to do crafts, so I help them so they can enjoy it too. I also encourage some of the other Filipino clients to try new thing and different foods with me. I like being able to help other people, and they become my friends."
In addition to finding new hobbies and friends, Trini was crowned Miss Barrio Fiesta 2016 at Hale Makua Kahului annual Barrio Fiesta. A care partner from the Day Health program had a gown made especially for the occasion and flew it here all the way from the Philippines, "it's the extra mile things like that, that really sets this program, and this organization apart from anything else in the community. They really care about their clients and that means a lot to us", Erllie said.
As part of our Eden Alternative journey, we are always looking for opportunities for residents and clients to engage in activities that they find meaningful. For Trini, the array of different activities allows her to try new things, lend a helping hand and feel good about the fact that she contributes to her community. That's something we all can be proud of.
For more information about the Adult Day Health program or the scholarships available, call (808) 442-4551.