Dedicated Volunteer Chooses Career at Hale Makua
Dedicated Volunteer Chooses Career at Hale Makua
Posted December 18, 2017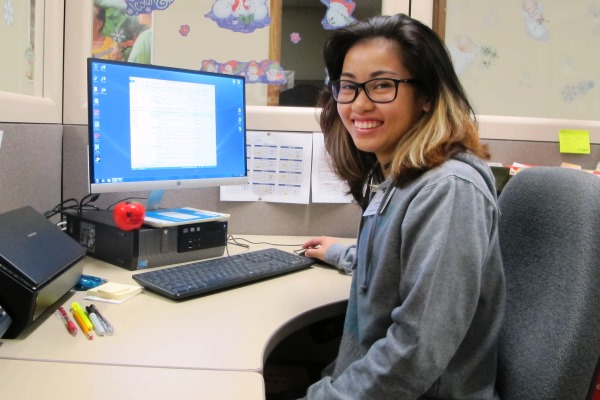 Leianne started volunteering at Hale Makua in 2015 when she needed to complete a 75-hour internship. She worked with our care partners in the Maintenance Exercise Program and loved getting to know the residents. After her completion, she came back for another internship in 2016 where she helped in our Human Resources office. In that time, Leianne completed 150 hours of volunteer service and helped the team tremendously by catching them up on data entry.
This year, Leianne contacted the Human Resources team again when she committed to another 150-hour service learning project and they were happy to welcome her back. What started as an internship turned into a paid temporary position as a Human Resources Clerk to help fulfill the needs of a vacant position while they searched for a permanent team member.
This month, Leianne completed her internship and will be graduating with her Associates Degree in May. As she finished her final week as an intern though, she was offered a permanent position as the Human Services Assistant, which she happily accepted. "What drew me back after the first time I volunteered here was the bond I created with the residents and staff." Leianne said she thinks it's pretty neat that after two years, the residents still recognize her in the halls and ask how she's doing. "I pass residents in the hall and they're like 'Hey, it's you. I remember you.' that's pretty cool." Leianne said people always ask her why she spends to much time at Hale Makua and she said it's more then an internship, "I like being here. It feels good to give back. It isn't about money. It jut feels right."
Leianne says she's happy that the people here like her and wanted her to stay, "I'm excited to learn and find out more about Hale Makua and the different departments". We are all excited to welcome Leianne to our Hale Makua Ohana, she is hard working and a dedicated learner!
To find out more about other career opportunities, visit www.halemakua.org/careers. To find out more information about volunteering contact our Volunteer Coordinator at danielles@halemakua.org.