Donors Help Launch Nurse Aide Training Program
Donors Help Launch Nurse Aide Training Program
Posted July 25, 2017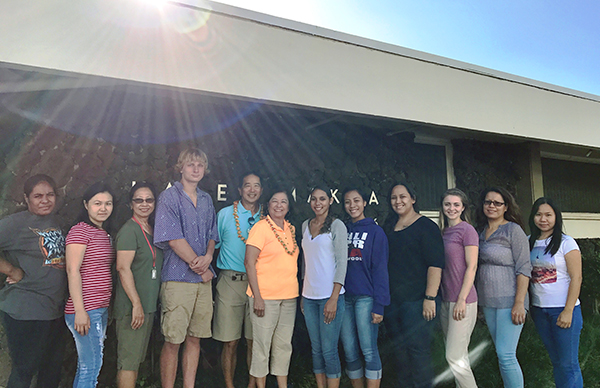 Hale Makua Health Services thanks the Atherton Family Foundation and the Hilton and Maria Acacio Unemori Fund of the Hawaii Community Foundation for their help in launching the organization's Nurse Aide Training Program to help in developing Maui's healthcare workforce. Hale Makua, as with other healthcare providers on Maui, has experienced a severe shortage of Certified Nursing Assistants (CNAs) in the past year. With only three other State-certified Nurse Aide Training programs on Maui, and the County's senior (age 65 and older) population expected to increase by an estimated 53 percent by 2030 (according to DBEDT projections), Hale Makua anticipates that there will be an even greater need for CNAs in the future.
The Nursing Aide Training Program will benefit the entire community in several ways. It will add a State-approved nurse aide training program to the island of Maui allowing more residents to enter the healthcare workforce. The training program will help to alleviate the current staffing shortage of CNAs at Hale Makua and will provide competent and experienced CNAs to help fill the overall shortage at healthcare providers throughout Maui. In addition, qualified students will receive the necessary training and books to become a Nurse Aide at no cost.
The first class of nine students began on July 7th at Hale Makua Wailuku. The course will be taught over four weeks with classes four days a week and includes 35 classroom hours, 77 clinical hours, text book, and work book. In addition to the 100 State-mandated hours of coursework, Hale Makua's course will include CNA exam preparation in order to provide the students with the knowledge and confidence they will need to successfully pass their CNA certification exam.
One of the main benefits of holding the class on-site at Hale Makua is that students are able to learn about a topic, then proceed immediately to a resident room for demonstration and practice. The course instructor is a Registered Nurse (RN) who has taught Nurse Aide courses at the University of Hawaii Maui College for over seven years. She formerly worked at Hale Makua as a Director of Nursing, so she has a wealth of knowledge about the care needs of long-term care residents.