Henry Finds Comfort and Peace of Mind
Henry Finds Comfort and Peace of Mind
Posted December 15, 2018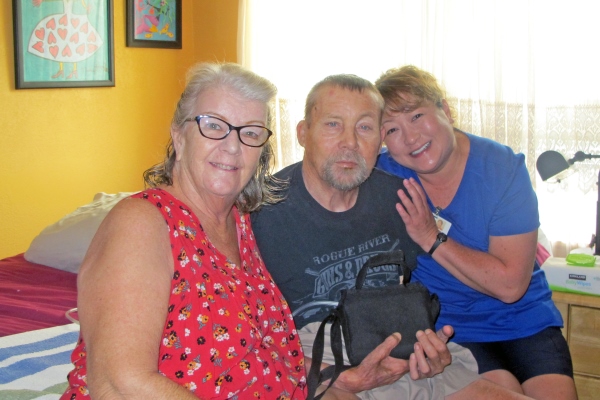 Henry Smith has been a client of Home Health by Hale Makua since July 2018, and is one happy camper when it comes to the services he receives. He isn't the only one singing the praises of the Home Health team, his wife Diana is right there with him. Diana shares, "I was hesitant at first, but Patty (Case Manager and Registered Nurse) became part of our family, I like to say she's my daughter from another father. She makes me feel comfortable about caring for my husband."
Henry was bursting with praises for care and knowledge he's received. "I arrived home on a Thursday from the hospital, and the next day Patty was here at my house, ready to care for me. She started teaching us everything we needed to know. I am absolutely positively, over the moon thankful for everything Home Health has done for my wife and me. They've taught my wife how to handle and manage almost all of my care, and she seems really comfortable with her ability to take care of me, with the assistance of Home Health when she needs it."
Henry is visited at his home in Napili three times per week to receive wound care, diabetes management, fall and safety precautionary teachings, and medication management and teaching. Henry would be considered a relatively long-term client for Home Health. On average clients are usually in the care of Home Health nurses and therapists for 60 days, at which point their physician will reevaluate and re-certify for longer care as they see fit.
Henry and Diana found that one of the most helpful tools offered by Home Health is the 24-hour nurse hotline that's available to all clients. "We utilized the hotline and called numerous times. The Home Health nurses were able to calm our nerves no matter the situation, and help us resolve the issue and walk us through the process over the phone with ease. It's a great addition to the already outstanding care and services that they provide".
Because of the frequent visits the Smith's home over the past four months, Patty has been able to build a very comfortable rapport with the Henry and Diane, which has made his progress and success that much more enriching. For the past 50 years, our team of nurses, therapists and social workers have been going into the homes of Maui residents and providing professional, compassionate care to help them get back on their feet and doing the things they love most, and that's what Home Health by Hale Makua is all about.