Home Health Provides Peace of Mind
Home Health Provides Peace of Mind
Posted February 21, 2018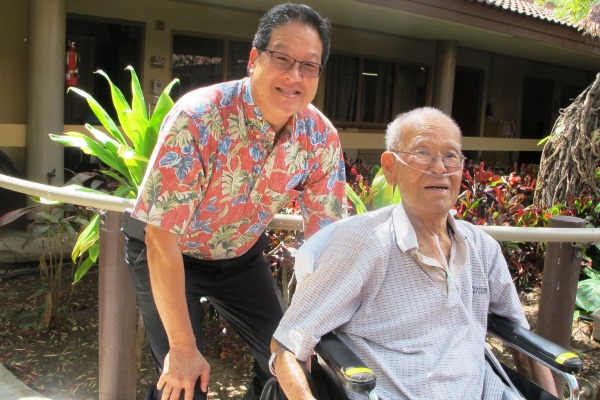 Tom Hiranaga is a familiar face at Hale Makua, his wife was a resident and many employees remember his warm, friendly smile. To-date Tom has used our full continuum of healthcare services including Rehab, Adult Day Health, and Home Health. His first stay with us was for rehab therapy after fracturing six ribs. After a 30 day stay, he was able to return home safely with the use of a walker. While at home, our Home Health therapists and nurse stepped in to continue services and ensure a complete recovery.
Tom's son, Paul, who also serves as a Board Director, was extremely impressed with the services and compassion provided by the Home Health team. "As a caregiver, you need an advocate, someone to help you through the process of all of the unknown. Joyce (Home Health's Client Care Manager) did just that. She navigated us through the process of each new and unfamiliar step. She took care of so many things that took the stress off of me as the caregiver." Paul shared that he used the 24-hour Home Health after hours phone service twice and they were tremendously supportive in helping make the decision of whether to take his father into the hospital or not.
"The physical and occupational therapists who come in with Home Health were cordial, helpful, and very informative, but what I really appreciated was when the Home Health Nurse started coming. It was like an extra layer of comfort for us, it offered my dad extra supervision and felt like a safety-net for the time in between doctor visits." For Paul, knowing his father was in good hands was what mattered most and he appreciated to comfort, care and information that was consistently provided to him and his family while using the home health services.
Tom was also a part of the Adult Day Health program for a short time and will now reside at our Wailuku campus where he will live in the Care Homes by Hale Makua. Paul and his family are looking forward to his father being a part of the Care Homes' lush green surroundings, peaceful environment and gentle support from their staff and care home companions.
If you would like more information about Home Health by Hale Makua or any of our other programs and services, please click here.