M A H A L O Credit Unions of Maui
M A H A L O Credit Unions of Maui
Posted August 10, 2019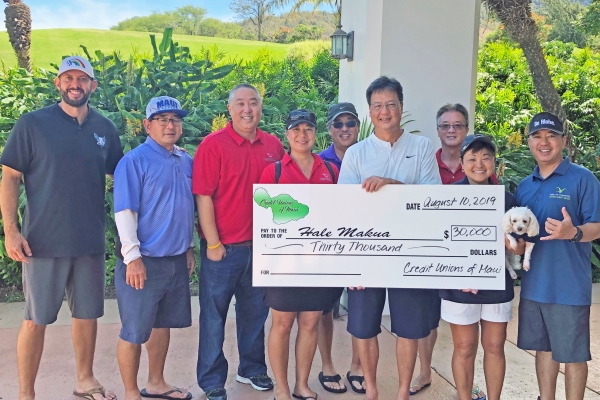 On August 10, 2019, 128 golfers gathered at the Kahili Golf Course for the 6th annual Credit Unions of Maui Charity Golf Tournament benefitting Hale Makua Health Services. This year's event raised $30,000 for the Maui healthcare organization to help ensure that frail elders and disabled individuals who can no longer live safely at home, and have no means to pay for care, are able to receive care and health services.
Hale Makua Health Services CEO, Wesley Lo, states, "This is such a fun event. We are very grateful to have been selected as a benefitting charity of the Credit Unions of Maui Charity Golf Tournament. The funds raised help in a variety of ways from providing a primary care physician for nursing home residents who don't have an admitting or attending physician, to helping ensure that the organization has the appropriately trained nursing workforce to care for residents."
Since 2014, Kahului FCU, Maui FCU, Maui County FCU, Maui Teachers FCU, Valley Isle FCU and Wailuku FCU have joined together to organize this annual golf tournament to support healthcare organizations. To-date, over $150,000 has been raised to improve the health of individuals throughout the State.