Mahalo A&B Kokua Giving Program
Mahalo A&B Kokua Giving Program
Posted April 24, 2014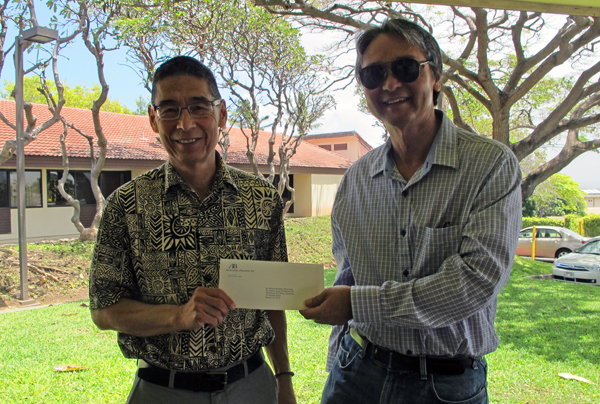 A generous $5,000 donation from Alexander & Baldwin's (A&B) Kokua Giving Program will help Hale Makua Health Services to procure and implement an Electronic Medical Record (EMR) system. The Patient Protection and Affordable Care Act federally mandates Electronic Health Records (EHR) for hospitals and private physician practices by 2014. While Medicare and Medicaid EHR Incentive Programs provide incentive payments to eligible professionals and hospitals, nursing homes and home health care agencies are not eligible.
When asked why A&B selected Hale Makua Health Services' project for funding, A&B Kokua Giving Program Chair Meredith Ching responded, "Alexander & Baldwin has a long history on Maui and felt that this was a unique opportunity help put in place technology that will improve the continuity of care with other healthcare providers on Maui who are required to have an EMR system in place by the end of this year. A&B's hope is that our gift with encourage other corporations and foundations to support this extensive and worthy project."
HMHS CEO Tony Krieg stated, "Hale Makua Health Services needs to move in the same direction as hospitals and physicians with regard to digital medical records, so we are grateful for Alexander & Baldwin's support. This generous gift will help improve overall quality of patient care by allowing the organization to document patient information more efficiently and effectively while allowing ease of access to primary care physicians and other health care providers involved in patient care. The EMR will streamline communication and improve continuity of care for patients who utilize our long-term care, home health, adult day health, and rehab programs."

The A&B Kokua Giving program's cash donations support our community partners and programs that work to improve the health and well-being of our communities. On Maui, more than 800 members of the community work for A&B businesses, including Hawaiian Commercial & Sugar (HC&S), Kahului Trucking & Storage (KT&S), East Maui Irrigation (EMI), A&B Properties and Maui Paving Company.