Making Memories, Sharing Moments at the Maui Fair
Making Memories, Sharing Moments at the Maui Fair
Posted October 08, 2019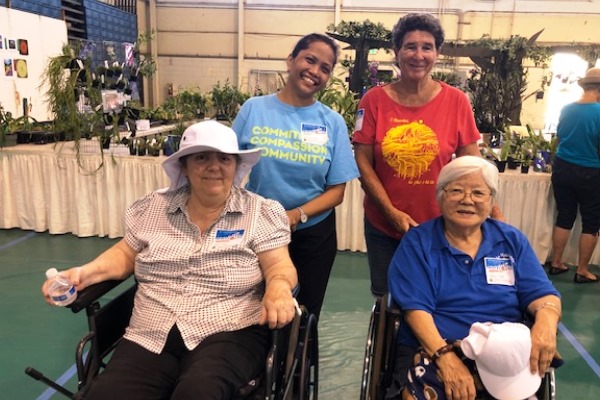 Lifetime, long-time and even recent Maui residents know that the Maui Fair is one of the biggest events on the island. In it's 97th year, the Maui Fair did not disappoint. Our residents look forward to attending the Maui Fair, and thanks to the Special Fair Day, and many helping hands from staff and volunteers, they got to take part in a Maui tradition.
Residents got to go on rides, play games, watch great entertainment, and enjoy delicious treats. Some residents entered their handmade artwork and crafts into the Hobbies & Crafts Exhibit. It was a special time to see their items displayed and they got to check out all the other entries. Pictured is resident, Marie Osaki (left) with Bety Idica and resident Mabel Kim, who won 3rd place for a eyelash yarn lei that she made. Mabel was accompanied by Mary Drayer. Mahalo to County of Maui, our staff, volunteers, and everyone that makes the Special Fair Day possible.
See more photos from the Maui Fair here.