New Graduate Nurse Residency Program to Start in September
New Graduate Nurse Residency Program to Start in September
Posted June 11, 2020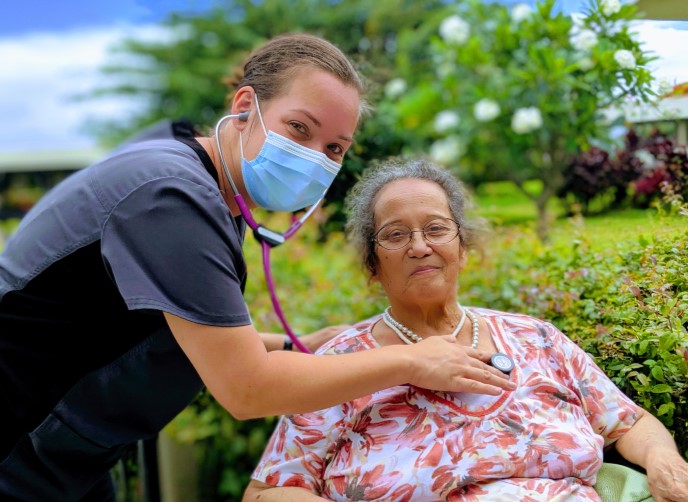 Hale Makua is planning to offer another New Graduate Nurse Residency program in September. Launched in January 2019, the program offers new nurses a chance to start their careers with the support and training needed to successfully transition into independent practice. The program provides education, observation, and one-on-one time with trained nurse preceptors. Through these residency programs, Hale Makua has trained over 35 new nurses, and has greatly reduce costs by decreasing the need for temporary nurses.
Lucky Ramos, RN, who is serving as interim supervisor on one of the neighborhoods said, "The program has been very helpful. From the moment they (the nurse residents) arrived they were oriented by our nurses, and were given the opportunity to grow in long-term care. They are doing great."
Kahaili Tovey, RN, (pictured above with Hale Makua resident, Dornamae Podlewski) recently completed the program and shared her experience, "My favorite part of the New Nurse Residency program was having someone I could rely on to help me navigate my new role as a nurse. I knew I could ask any question and that I was in a safe and judgement-free zone."
Due to current circumstances, we are monitoring when the Hawaii State Board of Nursing will allow new graduates to register for the NCLEX this summer. At this time, we plan for the next new graduate nurse residency program to start in September. If you or someone you know would like to become a part of this program, visit our website at www.halemakua.org/careers for information on how to submit a job application. For program information, please contact Kim Pickering, MS, RN, CNE, Clinical Educator at (808) 243-1727.