New Resident Transport Vans Purchased Through Grant
New Resident Transport Vans Purchased Through Grant
Posted May 15, 2019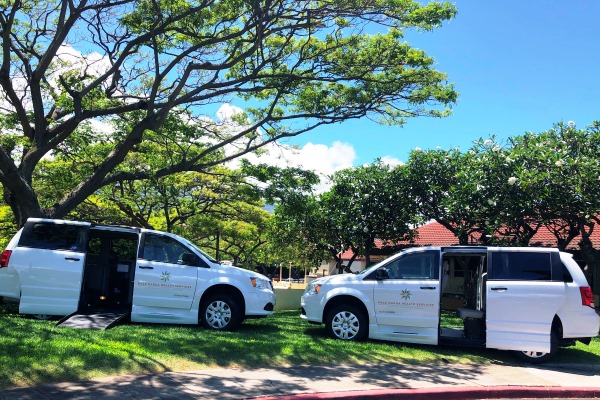 Thanks to a grant from the Federal Transit Administration (FTA), Hale Makua received two new transport vans for residents to get safely to and from appointments. These vehicles are most often used to transport our frail elderly and disabled residents to and from various healthcare appointments, including private physician and dentist visits. Since a nurse aide must accompany residents while they are off-site, and the duration of such appointments is not predictable, it isn't possible for residents and their caregiver to use existing, other means of public or private transportation. There is no charge for transportation services for residents, and services are provided as needed, when needed; totaling three to 10 round-trips per day.
At any given time,about 85% of Hale Makua Long Term Care residents are covered by Medicaid reimbursement, which does not reimburse Hale Makua Health Services for the transportation of residents, even if it is to and from a medical appointment. The new vans enable Hale Makua Health Services staff to safely transport our Hale Makua Long Term Care elderly and disabled residents to various medical, dental, and other appointments on an as needed basis.
Our residents now have enhanced comfort and safety of front-row access, while four adults can ride comfortably behind. Or the driver can transport two wheelchair passengers at the same time without any other passengers. The quick-deploy ramp shortens load times as does the lower step-in, which accommodates a wide variety of wheelchairs and scooters.