Nursing Home and Nurses Week Celebrations
Nursing Home and Nurses Week Celebrations
Posted May 12, 2020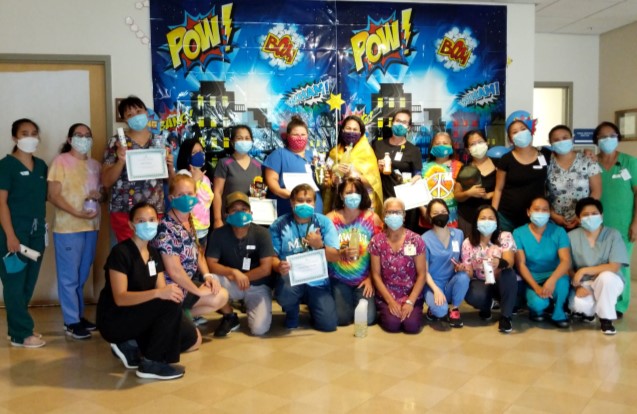 We had a blast celebrating National Skilled Nursing Home Week and Nurses Week this month. For Nursing Home Week in Kahului, the theme was "Healthcare Heroes" and awards were given out to recognize outstanding employees. Staff also participated in dress up days like wear a cape day and superhero dress up day (see more photos of our Superheroes here). Employees and residents teamed up to complete in various contests, and staff entertained residents on each neighborhood with fun karaoke songs.
In Wailuku, staff also had fun dressing up in different outfits each day such as nerd day and crazy hair/pajama day, and also competed in fun games throughout the week. The week ended with a special May Day program, where employees entertained residents with hula, singing, and poetry. One resident also shared a drawing she did of one of the nurses. (see more photos of the May Day event here).
We also celebrated Nurses Week. Our nurses have been doing a great job going above and beyond keeping our kūpuna safe and protected by quickly adapting to the ever changing regulations and recommendations for disease prevention. We are proud to have such a wonderful team of nurses at Hale Makua, and they truly deserve special recognition for all their hard work, compassion, and care they provide to our residents and patients.