Over $47,000 Raised for Charity Walk
Over $47,000 Raised for Charity Walk
Posted May 13, 2015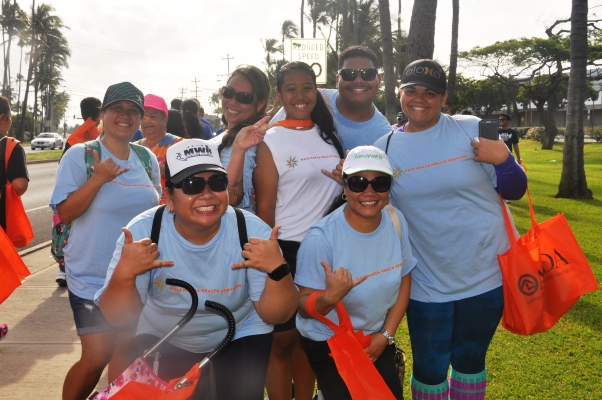 Thank you to all those who participated in team fundraising events, walked the 5km route, raised individual pledges, supported a team fundraiser by buying food, and/or made a donation. Without your support, we wouldn't have been able to raise $47,780.20 and place 2nd for nonprofit raising the most money. Plus, the funds that we raise go even further in helping to provide financial assistance to Hale Makua residents who are unable to afford the cost of living at a nursing home, because a percentage of money raised is matched by the Hawaii Hotel Industry Foundation.
Teams and individuals did a phenomenal job raising funds! Here are your top team and individual fundraisers:
Teams
1st Place: A-Team (Kahului Activities) raising $6,154.50
2nd Place: Asian Blend (Business Office) raising $5,744.83
3rd Place: Nutrition Nuts (Nutrition Services) raising $4,545.40
Honorable Team Mentions for Raising Over $1,000:
Good Samaritans (Kahului Nursing & Social Services) raised $2,335
HD Team (Human Resources & Development Office) raised $1,519.57
Molokai Vibes (Molokai Neighborhood) raised $1,200.05
West Angels (West Neighborhood) raised $1,129.00
Da Green Mangos (Lanai Neighborhood) raised $1,125.00
Notable Team Mentions for Raising Over $500
Red Hot Chili Steppers (Wailuku Nursing) raised $641.00
Activities Angels (Wailuku Activities) raised $623.17
North Neighborhood raised $577.68
Ilima Blossoms (Ilima Neighborhood) raised $504.00
Individuals
1st Place: Teresa Lopes raising $1,122
2nd Place: Jodi Horton raising $902
3rd Place: Jules Castillo raising $431
A big mahalo to former Board Director Mitch Mitchell for raising $14,790, taking 2nd for Individual Raising the Most Money; and non-competing individual fundraisers, CFO Joyce Tamori for raising $2,945 and Director of Development & Marketing Denise Thayer for raising $1,850.
A special thank you to our Senior Management Team (Tony Krieg, Julie Lacroix, Connie Miller, Joyce Tamori, Denise Thayer, and Ted Tucker) for pooling together $1,500 in funds this year for our first ever Senior Managers' Matching Challenge, which was met by donors and raised over $3,000!
Congratulations to Ruby Yado whose creative and unique design took first place in the t-shirt contest!
A huge thank you to the teams and individuals who made raising nearly $48,000 this year possible!
Mark your calendars, next year's Charity Walk will be on Saturday, May 14th!
View more photos from the event here.