Partnership Provides a Dedicated Physician Coverage Team
Partnership Provides a Dedicated Physician Coverage Team
Posted January 24, 2019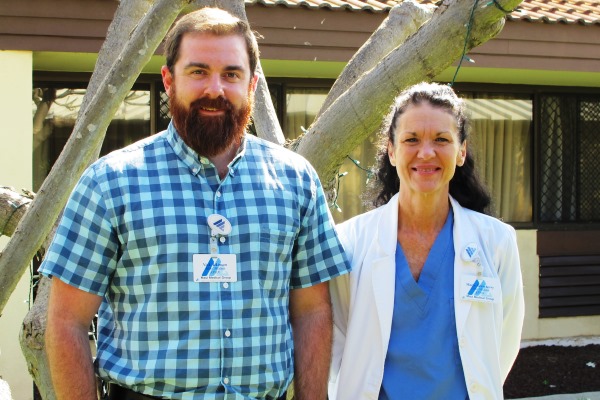 We are happy to announce that starting this month, thanks to a partnership with Maui Medical Group, Hale Makua now has two full-time Advance Practice Registered Nurses (APRNs), in addition to a group of Maui-based physicians consisting of doctors Zora Bulatovic, Anna Hom, Kim Kowalski and Constantin Novoselsky, to care for those individuals who do not have a community physician to provide care at the nursing home. APRN Nick Atkinson (pictured here on the left) specialized in Adult Gerontology at Vanderbilt University. APRN Maria Derryberry (pictured right) comes highly experienced from Hilo Medical Center and Yukio Okutsu State Veterans Home in Hilo.
"Hale Makua Health Services recognizes that a key component of delivering quality care to the community also includes ensuring that qualified and dedicated physicians and/or nurse practitioners are available to the residents and staff on a consistent basis. Having two APRNs who are present in our nursing homes on a daily basis ensures that staff are easily able to address daily issues and concerns related to the health and well-being of our residents. In addition, this model provides Hale Makua with the opportunity to potentially improve continuity of care for residents in the acute care and community settings who may benefit from receiving our services," shares Hale Makua Wailuku Administrator, Janinne Grimes.
This partnership is especially exciting because, in recent years Hale Makua has felt the impact of the physician shortage in Hawaii, which has led to the need to fly in a locum physician to admit and attend individuals from the community who do not have a physician who is willing to provide care in a nursing home. Between Hale Makua Kahului and Wailuku there are between 150 – 170 residents who are attended to by a physician provided by Hale Makua.
These locum physicians typically come from the mainland, have six month contracts, and have the additional costs of housing and a rental built into their contract. Locum physicians are usually used as a temporary physician coverage, however due to the existing shortage of physicians on Maui and in the State, Hale Makua has been forced used locum physicians for the past eight years. Without a physician, individuals who do not have a community physician could not be admitted or attended to at a nursing home, per federal and State regulations.
We are very grateful for the tremendous support of the County of Maui over the past four years for making it possible to continue providing physician services to our nursing home residents.