Residents Receive In-House Oral Care
Residents Receive In-House Oral Care
Posted September 20, 2019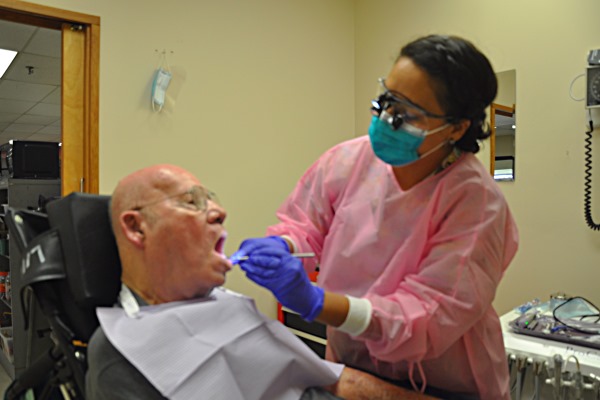 Residents and staff at Hale Makua are both benefiting from Hui No Ke Ola Pono's Virtual Dental Home. Dental Hygienists have been coming to both campus' weekly to perform routine cleanings, x-rays, fillings, denture care, crown, and more. In addition to serving our residents, the hygienists have been working hard to train staff to help residents care for their teeth.
The Virtual Dental Home program helps our Maui community fight the high rate of childhood and elderly tooth decay and oral hygiene issues, which are some of the worst among the country. At Hale Makua, residents are referred to the program through our Social Services team, a consultation takes place and regular oral check-ups and cleanings are scheduled thereafter. Hui No Ke Ola Pono bills Medicaid/Medicare and private insurance for the services provided, and a sliding discount scale is offered for individuals without insurance coverage.
It is incredibly valuable for our organization to have these services delivered on-site as the residents who see a community dentist need to be transported there and have a CNA stay with them throughout the appointment. Regular oral check-ups and cleaning are beneficial for the overall health of residents, and help prevent emergency visits to the hospital.
The dental hygienists are currently seeing a total of 39 residents at our Wailuku campus and 40 at our Kahului campus. Visits take place on Tuesdays and Thursdays. We are incredibly grateful for the Hui No Ke Ola's partnership and for the opportunity for our residents to receive the oral care they greatly deserve.