St. Patrick's Day Celebration
St. Patrick's Day Celebration
Posted March 17, 2021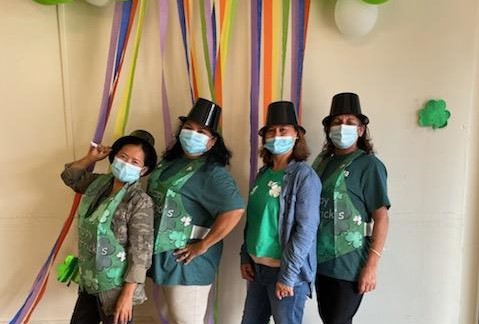 The residents had a wee bit o' St. Patrick's Day fun this past Wednesday. Along with a corned beef and cabbage lunch, residents enjoyed various activities to honor the Irish celebration.
Residents in Kahului were tickled at the sight of the staff doing an Irish jig. Activities Assistant, Roseanna Akina also did a cooking demonstration making guacamole, a suitable snack for the occasion due to its green color. Residents gobbled up the chips and guacamole, and then had some creamy mint chocolate chip ice cream. One resident shared that she hadn't had mint chocolate chip in years, and was "in love" with every bite.
In Wailuku, residents also had a fun time celebrating the occasion with a game of bean bag toss. Winners won a prize from a lucky Leprechaun. Afterwards, they enjoyed some popsicles and green cupcakes. Check out our Facebook and Instagram pages for more fun photos of the events.