Stan Regains Strength with a Smile
Stan Regains Strength with a Smile
Posted June 20, 2019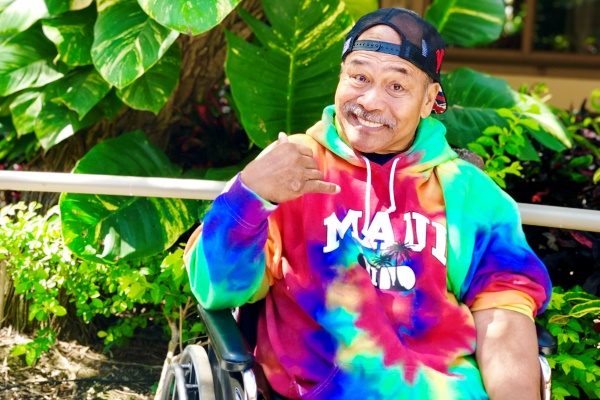 Stan Bascar was admitted to Hale Makua after being hit by a car, leaving him with a broken hip and multiple other injuries. When he arrived, he wasn't able to walk, sit up on his own, transfer himself, or dress himself. Now, a month later, Stan is able to take 80 steps with assistance. He is able to get out of bed and dress himself independently, and is much more mobile and active.
Stan shares, "These therapists are incredible, they put themselves in my shoes, and could feel my pain and struggles. They knew exactly what I needed and that's what helps them give me the therapy and care necessary to get me where I need to be."
In addition to our therapists, Stan is all smiles because of his nursing team. "I will never forget the nursing staff and CNA's that have been here taking care of me. Zyrille "Zy" (Bareng) and Vicann (Visaya) have been absolutely incredible. I remember asking Zy one day, how she came to be such a caring and compassionate person and she said to me 'Stan, if it was my father in your shoes, I would expect nothing but the best care for him, so I'll treat you and all of my residents like I would want my father to be treated.'" Those words stuck with Stan, and is one of the many reasons why he says he's been able recover. "It's the comfort of knowing you're in good hands. It helps you rest easy and feel like you're in a good place to heal and get better."
Stan's therapists say that his progress has been incredible. He continues to make strides daily, and they are working to get him back home and into his normal routine as quickly as possible. It's because of our nursing staff and therapists that our residents and clients can get the rest, care, and help they need. We are so grateful for their dedication and compassion for our kupuna and community.
We love hearing about our client's accomplishments, and seeing their progress along the way. When they come to us with tears of joy in their eyes, and hearts full of gratitude for the progress that they've made, these are the priceless moments that we strive for. Stan has been at Hale Makua for about a month, and in that time, he progressed tremendously, all the while with a bright and happy smile.