Sun Shines on Hyundai Tournament
Sun Shines on Hyundai Tournament
Posted January 09, 2014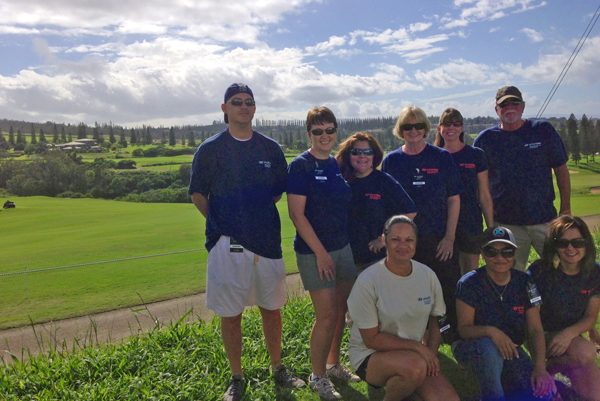 We are honored to have been selected as a benefiting charity of the PGA TOUR Hyundai Tournament of Champions, which has distributed over $4.4 million to Maui nonprofits. This year's Tournament held from January 2 - 6 at the Plantation Course in beautiful Kapalua, was graced by light tradewinds and sunny skies. Our efforts wouldn't be possible without the support of the businesses who donated gifts in-kind and volunteers who gave their time to the event.
A big mahalo to our Board Directors, staff, and community members, and the Maui Junior Golf Association members who gave over 545 hours of their time to help with merchandising, ecology and the media center on behalf of our organization. Many thanks to the individuals and businesses who generously gave on our behalf: DHX, HFM Foodservice, Homes & Land of Maui, Molokai & Lanai, Incipio, Matson Navigation, Maui Oma Coffee, Office Depot, Office Max, Pacific Media Group, Burt Sakata, Scott Hawaii, and VIP Foodservice.
It has been a privilege to work with volunteers from the other benefiting charities: Boy Scouts of America, Friends of the Children's Justice Center, J Walter Cameron Center, Ka Lima O Maui, and Lahainaluna High School Foundation. A very special thank you to the PGA TOUR Hyundai Tournament of Champions Tournament Director Nancy Cross and Coordinator Marisa McCollough for making this exceptional event possible. We appreciate all that was done to ensure the success of the Tournament, and its continued support of Maui's nonprofits.