Valentine's Day Pageant Brings Tears of Joy
Valentine's Day Pageant Brings Tears of Joy
Posted February 15, 2019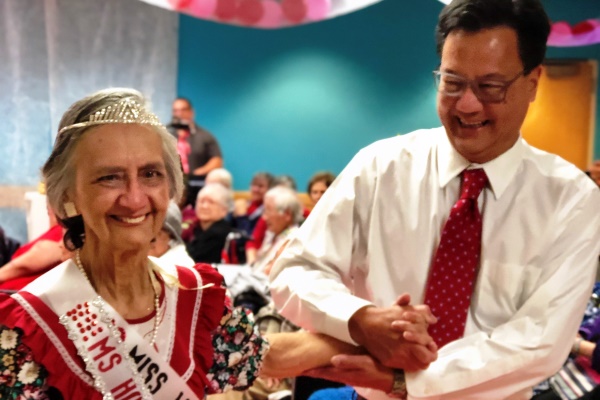 On Valentine's Day, Hale Makua holds an annual Miss Hale Makua Sweetheart pageant. This year seven contestants were selected to represent the town they grew up in and compete for the crown and the title of Miss Hale Makua Sweetheart. The winner is the sweetheart for the entire year and will be the reigning May Day Queen.
This year, our beautiful contestants gathered in the Aloha Café while Hale Makua staff helped to get them ready, doing their hair and makeup, and selecting jewelry and attire. Once the pageant started, they were each escorted down the red carpet by a Hale Makua employee while introduced by the emcee. Contestants were asked a series of questions, and judged in the categories: Most Photogenic, Best Smile and Darling of the Crowd.
Miss Hale Makua Sweetheart 2019 was Miss Wailuku, Clara Panela, a client of our Day Health program. Clara was so honored, and said she felt like a real princess. "This was a really special day for me. I love Hale Makua and all of my friends and I'm so glad I could be a part of something like this. I was crying tears of joy, I've never done anything like this in my life, and I feel so beautiful".
Mahalo to all of our incredible staff, family members, and friends who came together to make our pageant so unforgettable, and to our amazing musician, David Perreira for keeping us entertained.
See more pictures from Valentine's Day here.