Making the Holidays Merry and Bright
Making the Holidays Merry and Bright
Posted December 20, 2016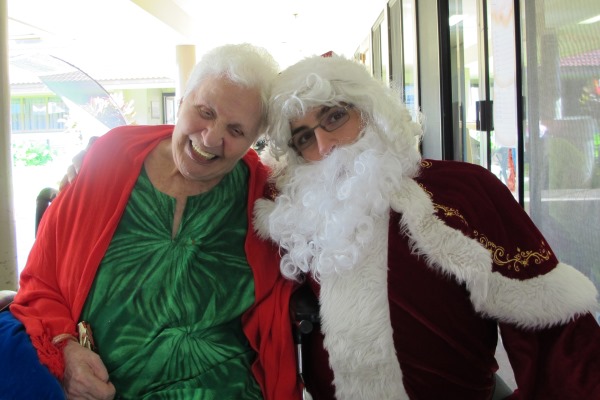 Hale Makua Health Services has received so many gifts of goods and time during this season of giving. Community members of all ages, shapes and sizes can be frequently found spreading holiday cheer to our residents by singing Christmas carols, passing out treats, or wishing residents and clients a merry Christmas! To see all the fun holiday photos, visit our Facebook page here.
Santa Claus took time out of his busy schedule to pay a visit to our residents, clients, and staff, all of whom I am sure are on his "nice" list. Gloria Distefano, seen in the picture, lives in our Kahului home and was so excited to see Santa that she would not let him leave without a proper hug from her. Santa's kindheartedness was felt by everyone as he took the time to shake hands, listen to favorite Christmas memories, and wish everyone a joyous Christmas while his elves sang and handed out treats.
At this time of year, we are reminded of how important those in our care are to our community. The overwhelming support of your visits, songs, cards, gifts, time and monetary donations are greatly appreciated and helps to improve the well-being of our residents and clients. Our warmest mahalo to everyone in the community that have made the holidays merry and bright for everyone at Hale Makua.
Faith in Jesus Church
St. Anthony Wolves
Brad Kahikina and friends
Cub Scouts
Halau Elele
Neva to Late
The Plunkers
Hui Ho'omana
Kiwanis Club
VFW
LDS Church
Shannon and friends
Kahului Activities staff
Wailuku Activities staff
And the many groups and organizations that we missed to name