A Loving Home Away from Home for Jojo
A Loving Home Away from Home for Jojo
Posted March 14, 2022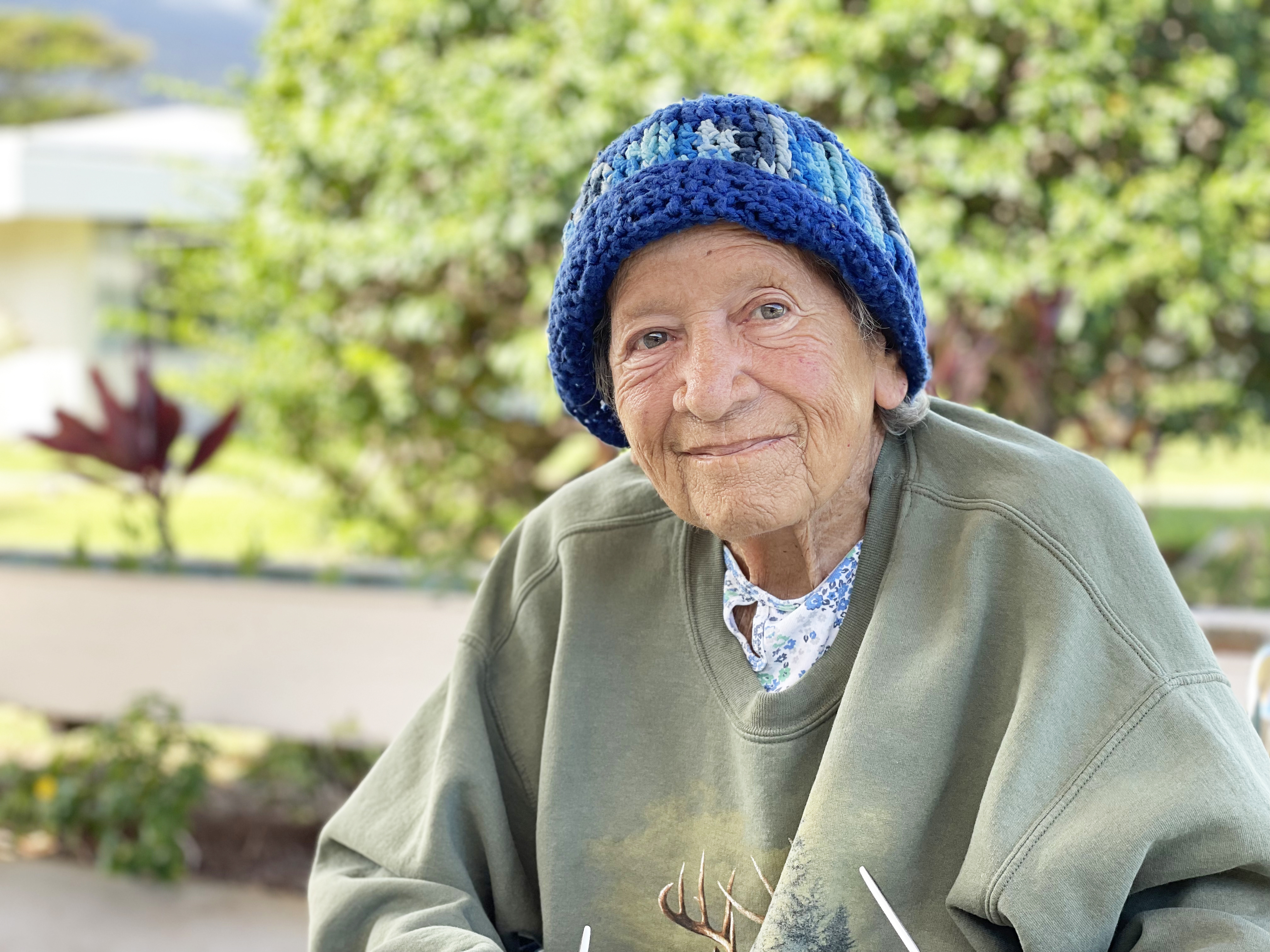 Maui has always been home for Jojo Apo, even when she was away for four years in the military. When she joined the Army at age 18, she became so homesick that she did what reminded her of home the most. She swam. She swam so much that others took notice and asked her to teach and compete on a military swim team. It's no surprise that she ended up becoming a lifeguard and swim instructor at the Wailuku pool after the military. She even helped Hale Makua back in the late 80's when residents wanted to go for a swim. At the time, she was the only one on Maui that was willing to help out Hale Makua residents by allowing them to come down for a swim with the Hale Makua Activities staff. Every week, Jojo would close the pool for one hour for Hale Makua and it meant the world for those residents. Swimming at the beach or pool was Jojo's favorite thing to do, until several years ago when she had a leg amputation and became a resident of Hale Makua herself.
She recalls that when she first arrived at Hale Makua, she was mean to the staff. She remembers being angry about losing her leg, and took it out on the employees. But she said the thing that changed her heart towards them was the way they treated her.
"They just took care of me," said Jojo. "They just talked to me, they just treated me nice. Treated me like a human being."
One fond memory she has of the staff happened a few months after her loving husband of 17 years passed away last year during the pandemic. She really wanted to see his grave, so the Wailuku Activities Director at the time, Jordan Kahiamoe, and Care Homes Head of Household, Trisha Akahi, decided to take her up to the cemetery.
"It was the most beautiful thing," Jojo said with tears in her eyes. "I just sat there and cried, and hugged his grave…just cuddled his grave…just loved his grave."
Jojo really appreciates the staff at Hale Makua for all they have done for her. They also assist her with her exercise therapy and she says, "They watch over me, they make sure I work real hard and I do the right thing. They're very supportive. They tell me what to do, how to do it, how I should do it, how I shouldn't do it."
Jojo is happy in her new home at Hale Makua, though she wishes there was a pool for the residents to swim and relax in. If she's not exercising or resting, you can find her sitting outside under the umbrellas at the Wailuku campus, listening to her Hawaiian music on her portable radio while she works on her puzzle book. It's a simple life, and she's happy here at Hale Makua amongst the staff whom she says she loves and who love her too.