Learning from Adopted Elders
Learning from Adopted Elders
Posted July 14, 2015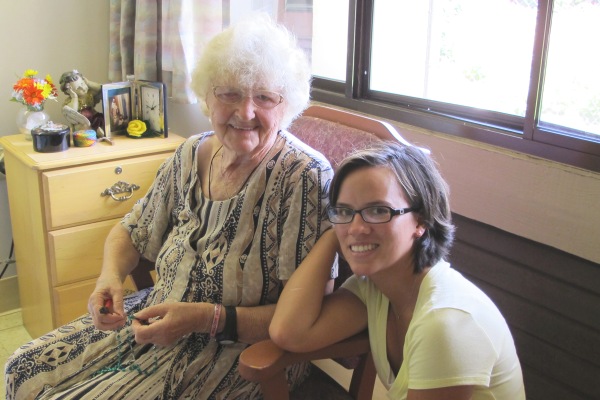 With a desire to help others, Maria Restrepo brightens the day for the residents that she visits regularly. Maria is part of our Adopt a Kupuna volunteer program, which pairs a volunteer with a resident that would benefit from engaging in one to one visits.
Maria is matched up with Connie, who she visits multiple times a week. Maria said she has learned so much in the short time that she has gotten to know Connie. They spend their time taking turns talking and listening to one another. Maria feels that listening is the best thing she has to offer.
While visiting Connie, Maria noticed another resident making bead necklaces. Upon closer inspection, Maria found that it was actually rosary that was being made. This piqued Maria's interest and she wanted to find out more about this individual and her amazing talent. Maria discovered that this woman's name is Stefania and she worked in a factory making rosary in her younger years. Stefania, pictured above with Maria, continues to make rosary carefully placing each bead until it is perfectly in place. She gives her rosary to anyone who wants it. Maria has built an incredible friendship with both women.
An important lesson that Maria has learned from visiting Connie and Stefania is to not to take anything for granted. Connie and Stefania miss not being able to move as quickly and as easily as they did in the past. They miss doing simple things, like going to the grocery store on their own or being able to visit family and friends often. Their outlook on life has taught Maria to appreciate every day, everything around her and everyone in her life.
Maria has found that these two women have so much wisdom and willingly share their knowledge with her, and so do many of our other residents. Maria encourages everyone to take the time to listen to our kupuna and we, too, can learn many things. Many of our residents would greatly benefit from one to one visits. And as a volunteer you would gain much more than you think is possible. Call (808) 871-9283 to find out more information on how you can Adopt a Kupuna today.