Born to Bring Communities Together
Born to Bring Communities Together
Posted June 15, 2017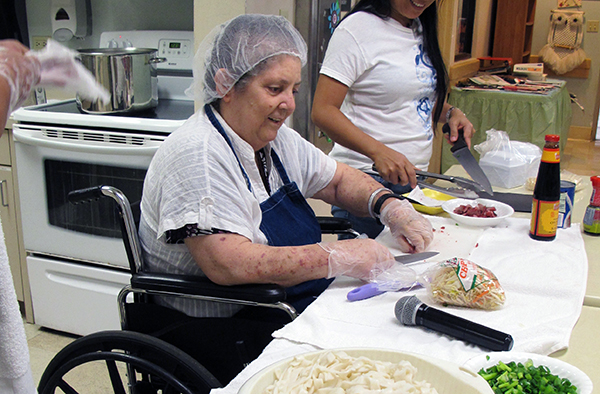 Marie Osaki was placed on this earth with a purpose, to serve others in any capacity that she is able. Around twenty years ago, she was a volunteer at her church, St. Theresa, when a small group of community members decided to start a meal service to help feed the hungry. They utilized a portion of the church to prepare and serve meals each day. "Anyone was welcome to come grab a plate. No questions. No judgment. If you were hungry, then you'd be fed." They started off small but eventually the news traveled quickly and before they knew it, there were lines of grateful, hungry community members looking for a warm meal to satisfy their hunger. Marie said the entire process became huge and at times chaotic because it grew so quickly. Members of the church and community would come volunteer but there wasn't any structure, and that's where Marie stepped in.
Marie organized the entire volunteer program, setting schedules, guidelines and helping to make sure everything was operating smoothly each day. She was eventually hired as the Kitchen Manager, preparing meals and teaching volunteers to follow her lead each day. She contacted the Food Bank, local businesses, and hotels and began working with them to get food donations in order to keep the costs of providing all of these meals as low as possible. Marie also helped organize the annual fundraiser bringing in silent auction donations and planning the festivities. "We are blessed to be a part of a very generous community, people love to give here and we are very fortunate for that." Marie was the driving force behind Hale Kau Kau for 18 years before retiring.
Now, at age 74, Marie lives at Hale Makua Kahului as a long-term care resident, and while she may not be able to go out into the community and give back as much as she'd like, Marie is making a difference in the lives of her fellow elders right here. "I used to pray the Rosary every day, and I really missed doing that. So I started a group that meets every other week and we pray together, this is my calling."
Marie's group meets in Hale Anela, a space at Hale Makua designated to be used for spiritual meetings and prayers. Even though the group only started meeting a couple of months ago, Marie says that it's grown so big that they'll need to start seeking a new meeting space.
Marie has been a resident here for about one year and says the care she receives is really outstanding. "The staff go out of their way to make sure we receive great care and there are always activities going on to keep us busy." Among starting the Rosary prayer group, Marie has taught a cooking class for our residents where she shared her recipe for chow fun, she also hopes to start volunteering a few times a week as a greeter at our information desk.
Stories like Marie's inspire us to keep pushing forward. No matter what stage of life she's in, Marie is always willing to lend a helping hand and give back to the community she loves and we are grateful for her generosity and wisdom that she shares with our staff and residents each day.