Cinco De Mayo Parade Gives Residents a Chance to See Loved Ones
Cinco De Mayo Parade Gives Residents a Chance to See Loved Ones
Posted May 05, 2020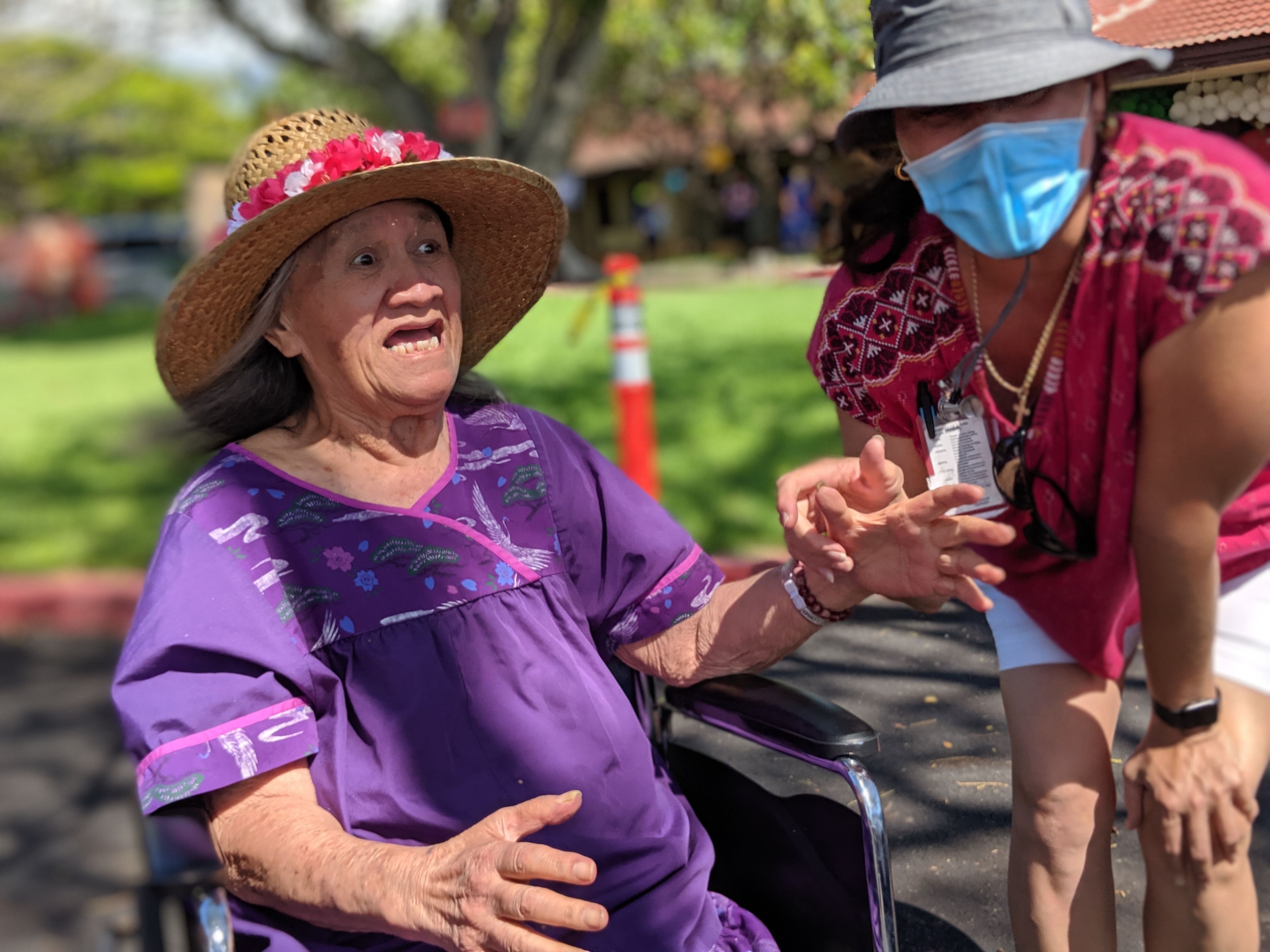 Hale Makua Kahului Residents were given a rare opportunity to safely reconnect with loved ones during a Cinco de Mayo celebration parade (click here to view a video of the event). A hundred Hale Makua residents lined the campus driveway holding up colorful, hand-painted signs to greet family members who drove by in a parade of cars decorated with loving messages and festive themes. It was an emotional reunion for many families.
Keoni Darisay and his two brothers, Wayne and Eric, brought their families with them to the Hale Makua parade to see their mother, Paulette (pictured above), who had been staying in Hale Makua since last summer. "This is so awesome. This is so touching," Keoni said after seeing his mother. Paulette, who suffers from memory loss, did not immediately recognize the smiling faces of her children and grandchildren, but when she finally made the connection her face lit up in surprise and she became overwhelmed with emotion. "We were all in tears," Keoni said.
In order to protect residents from outside exposure to illness, visitors have been prohibited at Hale Makua since March 16. Hale Makua has established alternative means for residents and families to keep connected. Video calling stations were setup at the end of March, and photos of residents and activities in the facility (like today's event) are regularly posted on Hale Makua's Facebook and Instagram pages. The parade was another creative way to allow residents to see family members whom they have not seen in over a month, while still ensuring their protection from exposure. Another parade event is being planned for residents in the Wailuku campus.
Along with Cinco de Mayo, today also happens to be #GivingTuesdayNow, a global day of giving and unity in response to the unprecedented need caused by COVID-19. At today's event, staff passed out bags of face masks donated by Every1ne Hawaii to the families in attendance. Hale Makua, like many other non-profits, depend greatly on monetary donations to help offset costs and maintain operations. If you would like to help support Hale Makua and make a difference in the lives of our kūpuna, please visit our website at www.halemakua.org/donate or call 808-871-9271.