Comforting Care Aides in Victor's Recovery
Comforting Care Aides in Victor's Recovery
Posted May 11, 2017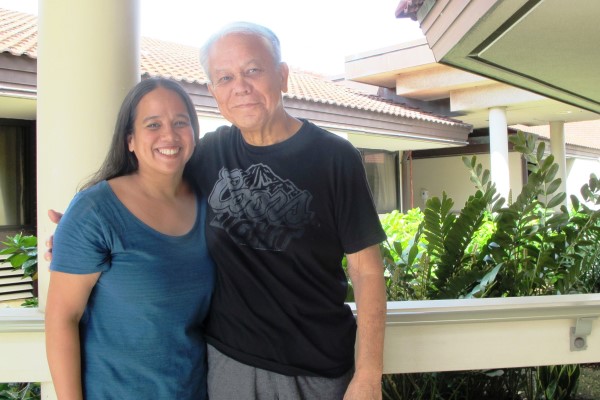 Victor Balisco is someone who immediately puts a smile on your face. His warm and welcoming demeanor makes him a pleasure to be around, and his positivity hasn't been hindered by his most recent health setback. After suffering a heart attack and a stroke, Victor was unable to walk and needed extensive assistance with daily tasks.
Upon starting physical and occupational therapy with Rehab by Hale Makua, it took him several days before he began getting comfortable on his feet again. "I had to gain my balance back so I could get back on my feet, and the therapists here helped me do just that."
Victor said at first he was nervous when his doctors referred him to Hale Makua for in-patient therapies. "I didn't know what to expect. It took me a few days to adjust, but now I have to say, the staff is really great!" Like many others who stay at Hale Makua for the first time, Victor had no idea that Hale Makua was more than just a nursing home.
He was pleased to hear about the professional therapy services offered, and doesn't know what he would have done if this program wasn't available. Victor's daughter Valerie (pictured above with Victor) said she was very impressed with the care her dad has received. "He's been really well cared for. He's happy and that's all we can ask for."
Victor has been most impressed with the high quality care he's received, and how much the staff genuinely cares about him. "The staff here is star quality. From the nurses to the therapists, everyone is attentive and kind. Even the other rehab patients talk about how great it is here."
During his recovery, Victor appreciated that his therapy plan was tailored to fit his abilities and comfort level. "I never felt like I was being tortured or pushed to do things I wasn't ready for. They pushed me but in a good way, a comfortable way."
Victor met a lot of new people and made a few friends. Knowing that everyone around him had the same goal to get better, become stronger and get home to their families helped him feel more comfortable and put any apprehension he had about staying at Hale Makua quickly to rest.
While he was completing his rehab here, his family was hard at work getting ready for his return. They installed railings and ramps to ensure he was as safe as possible when he arrived. Victor has since returned home with his family and we wish him all the best in his recovery.
If you would like to find out more information about our in-patient and out-patient Rehab program, click here.