Donna Makes Huge Strides
Posted March 18, 2021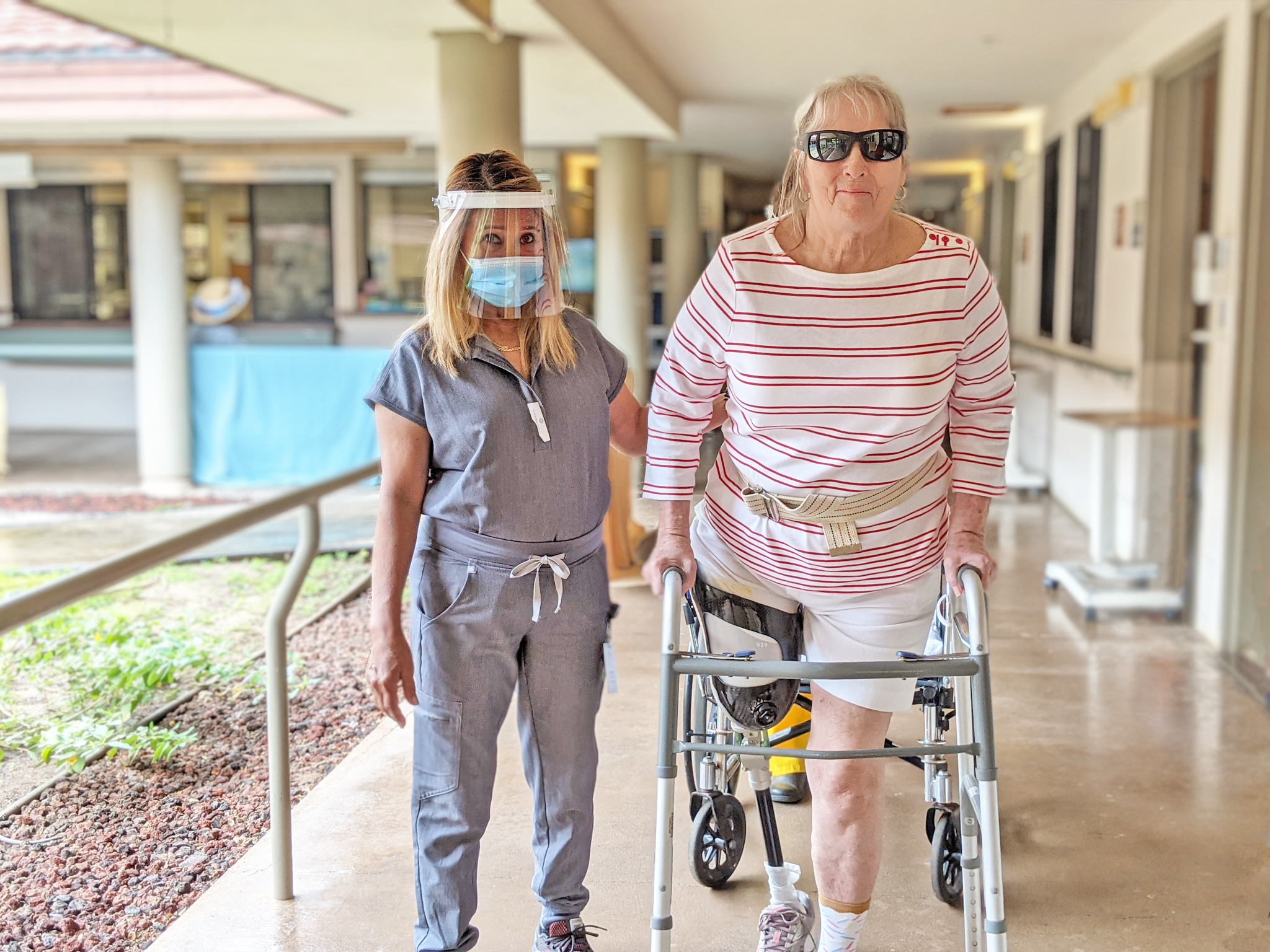 In 2019, when Donna Davis went to the doctor to investigate a pain in her right leg, she never imagined that she would end up losing that leg. Up to that point Donna had been quite independent, and though she was in her late 70's she was still actively playing tennis, swimming, and snorkeling. After the amputation, she struggled to face the overwhelming reality of the situation and was uncertain how she would manage. She was thrilled to come to Hale Makua knowing she would receive the care and rehab that she needed.
At first, Donna's rehab sessions were painful and difficult for her, but she was determined to qualify for a prosthetic leg. In order to be eligible, one goal she needed to reach was being able to stand for 20 minutes on her leg. At first, she could only do several minutes at a time, but as time went on she started to make progress. After many months of hard work, she reached her goal and recently received her prosthetic leg.
"Once she got the prosthetic, she walked on her first try," Physical Therapy Assistant, Chris Sargent shared about Donna. "She worked very hard to stay motivated with therapy, and once she got going she just took off. She's adjusted faster to that than anybody I've seen."
Donna has made huge strides and continues to work with the Restorative Aides to build up her strength walking with the prosthetic. "They take their time, they go with what I'm able to do," says Donna about the aides. "We go a little further every day and it gets a little easier every day."
Donna has come a long way and is now able to walk with her prosthetic using the walker for support. Her new goal is to be strong enough to go home and get back to doing the things she enjoys like going out shopping or swimming. With the help of the staff at Hale Makua and Donna's strong determination, we have no doubt she will reach her goal.