Edward Climbs His Way to Recovery
Edward Climbs His Way to Recovery
Posted June 11, 2020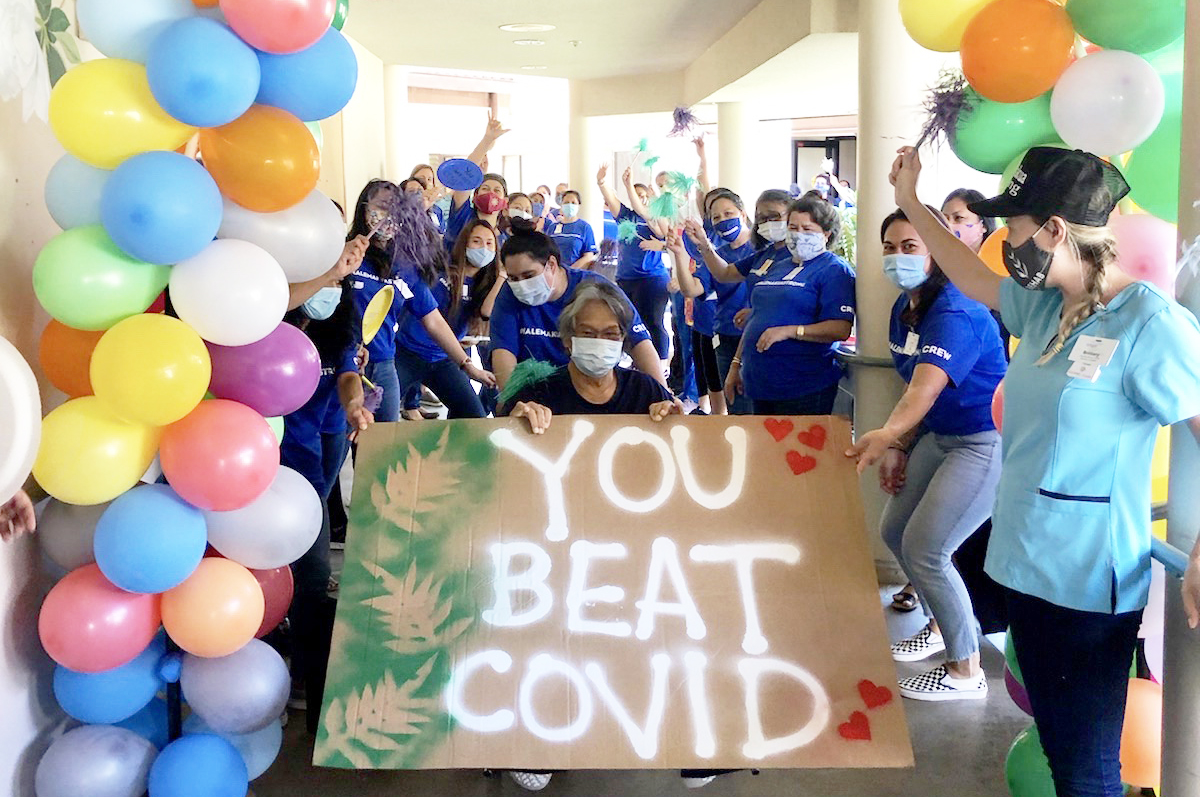 From an emergency flight to Maui to contracting COVID-19, Hale Makua resident, Edward Kawewehi, has quite a story to share when he returns home to Kona. Edward's journey began in early March when he went to the doctor to see why he wasn't feeling well. He ended up being medevacked to Maui to be treated for acute kidney failure. His condition had made him weak and unable to walk or get out of bed. After hospitalization, he was admitted to Hale Makua for rehab.
A few days after his admission, it was discovered that Edward was previously exposed to COVID-19. A test confirmed he contracted the virus. Fortunately, proper protocols such as isolation were followed which prevented the spread of the virus within the facility. Being quite social and friendly, Edward shared that isolation was not easy but the nurses were nice and would come and talk with him. Though he remained asymptomatic, Edward continued to test positive for a month. When tests finally cleared him and he was released from isolation, he was greeted by staff waving signs and pompoms, cheering him on as he passed through a colorful balloon archway.
Being back among other residents was great for Edward. He quickly made friends and was able to enjoy the campus. "I love it. The place is nice," Edward said. "I get my own bed, the wind comes through, you see all the birds, and all the nurses and aides they're all really good."
Though Edward had overcome one obstacle, he still had more challenges to face. At home, Edward has to climb a flight of stairs to get to his condo, so he worked hard with his therapists to meet that challenge. Physical Therapy Assistant, Chris Sargent, shared a memorable therapy session with Edward when he reenacted a scene from the movie, "Rocky". "The first time he went up the stairs, he got to the top and put his hands up and yelled, 'Yeah!!!'. He was Rocky." Chris fondly recalls.
After two months at Hale Makua, Edward is going home. He can now walk with a walker and climb stairs like a champion. He has been looking forward to seeing his wife again, and the timing could not be better. They will be celebrating both her birthday and 28 years of marriage in a few weeks, and he plans to take her out to a fancy dinner. As he was leaving Hale Makua, staff once again cheered him on and he jokingly shouted back, "I go come back! I like this place!"
Though everyone will truly miss his delightful presence here, we are happy to know that he will continue to work hard on his recovery and he will only get better thanks to the support and care he received from the nurses and therapists at Hale Makua.