Eleanore Speaks Volumes About Her Care
Eleanore Speaks Volumes About Her Care
Posted September 25, 2019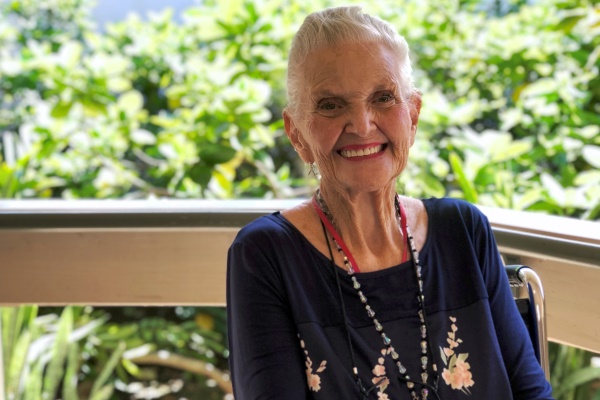 Eleanore MacKenzie has extensive experience with Hale Makua Health Services. She received services from our Rehab therapists and Home Health professionals, in addition to visiting her best friend of 13 years three times a week at our Kahului campus. So when we asked her to be a guest speaker at our annual fundraiser, Kokua for Kupuna, she was more than delighted to share her story.
Unfortunately a week before the event, Eleanore fell in her home, and broke her left femur, landing her in the hospital and needing surgery. Dedicated to her commitment to sing the praises of her past experiences with Hale Makua, Eleanore wrote her speech while laid up in the hospital, and agreed to have a video of her reading the speech at the event. Here's some of what she had to say:
"I originally became familiar with Hale Makua through their Home Health program when I received Physical and Occupational Therapy in the comfort of my own home after a fall. They taught me things like how to transfer myself safely, strengthen my muscles, and general safety precautions around my home. The therapists were courteous and very patient. I loved having them take the time to come into my home and teach me things that would help me even after my recovery.
Earlier this year, I took a bad fall breaking my right femur that landed me in Hale Makua Kahului for Rehab. I knew going in that the care was going to be great because of how incredible my experience with Home Health was, and I was not disappointed. Not once did I have a negative experience. The nursing staff is always friendly and smiling, and always available to help with my needs, and they did a great job! They help with things like giving me my medications, because lord knows I would have forgotten, bathing me, and they helped with household chores like keeping my living space clean, and doing my laundry. Plus, I got to eat whatever I wanted by creating my own personal menu each week. "
Since Eleanore's most recent fall, she was readmitted to Hale Makua for rehab and has been loving the care and services just as much as last time. "The last time I was here was from a fall that caused me to break my right femur, this time it was my left femur. I can't believe I've broken both femurs in less than a year. What I will say is, the care is just outstanding. Everyone is so kind, and patient, and they continuously go above and beyond to make sure I'm comfortable and happy." Eleanore says that if in-patient recovery from an illness or injury is unavoidable, there's no place she'd rather be than Hale Makua.
Because of Eleanore's remarkable story, supporters of Hale Makua were able to hear firsthand about the incredible care and services that our team provides on a daily basis to a number of individuals in need from all of over the island.
You can hear Eleanore's entire speech here.