Free Nurse Aide Training Classes Offered
Free Nurse Aide Training Classes Offered
Posted November 09, 2017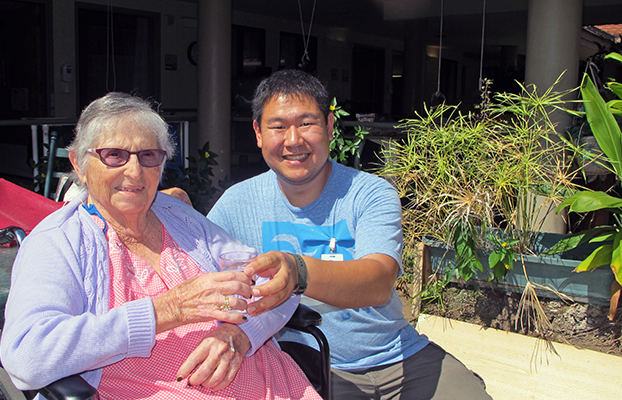 Our Nurse Aide Training Program aims to offset the cost of attending a state approved nurse aide training program and encourage more people to work at HMHS, and offers individuals the opportunity to become trained as a Nurse Aide and preparation to take the Certified Nurse Aide (CNA) test. The Nurse Aide course consists of four weeks of classes including 100 hours of course work, labs and clinicals, as required by the State of Hawaii. At the end of the course, students will be able to work as a nurse aide. This course is offered at no cost with a one year employment commitment to HMHS upon completion. Individuals interested in the course with no employment obligation are able to enroll for a fee of $1,100 which covers course fees and books.
Classes will be held starting January 4 and run through January 28, 2018 meeting every Thursday - Sunday (four days per week) at Hale Makua Wailuku located at 1540 Lower Main Street. All classes are mandatory in order to receive a certificate. Before students begin, they must apply by November 17, 2017 for a Nurse Aide position at Hale Makua, and be offered conditional employment with the organization. A 2-step TB screening, drug test and a criminal background check is also required. Call (808) 871-9263 for application or additional information.
In addition to employment, HMHS has great employee benefits, including paid time off and medical, dental, vision, prescription and life insurance benefits. For full-time employees, Hale Makua Health Services covers 95% of an employee's single medical premiums and 90% of family medical and dental benefits. The organization also provides a match to employees' 401k retirement savings, and offers generous tuition reimbursement benefits and scholarships.
HMHS has found that one of the major challenges for potential caregivers to entering the healthcare field is the upfront cost of paying tuition and fees at a nurse aide training school. HMHS would like to help alleviate those costs for individuals that we think would be a good addition to our team by covering the cost for the registration and tuition fees for nursing aide training. In exchange receiving training, individuals enrolled in the program would need to agree to work at HMHS for one year as a Certified Nurse Aide (CNA).