Gary Gets Help Coming Back to Life
Gary Gets Help Coming Back to Life
Posted March 20, 2018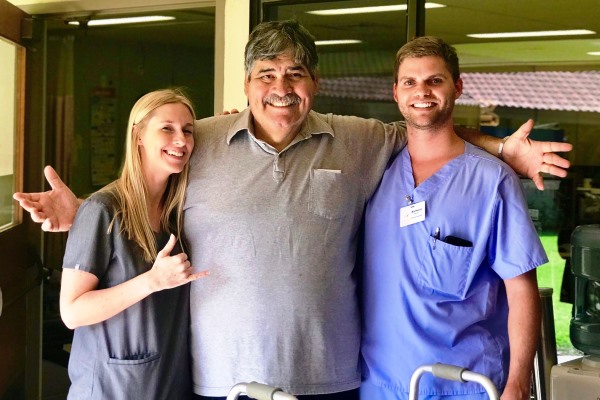 After fourteen days at the hospital Gary Boteilho arrived at Hale Makua. He wasn't able to walk 20 feet at that time. He needed five liters of oxygen a day just to breath. After only one week of physical and occupational therapy at Rehab he no longer needed to use oxygen. After two weeks Gary was able to walk 1,200 feet.
Gary hadn't been feeling well. He was retaining a lot of fluid. He went in for a CT scan, but the nurses suggested that Gary go to the hospital instead. His oxygen levels were alarmingly low and he had more fluid than before. After two weeks at the hospital, he was told his kidneys were shutting down.
Fortunately Gary's kidneys recovered, but he had grown weak during his hospital stay and relied heavily on the use of oxygen. Even the slightest exertion was physically draining. To help get Gary back home, his doctor prescribed in-patient rehab at Hale Makua.
Gary said he didn't know what to expect at Hale Makua. His mom had received rehab services in the past and her experience was great, but he was nervous. "Never in a million years did I expect the care to be this good. Just excellent. All of the nursing staff and therapists have gone above and beyond my expectations. I've had so much fun with the therapist, and that's a huge part of healing. Finding the goodness from within and letting it shine through."
Gary shares that one of the things that helped him get comfortable when he first arrived, was throwing his pride out the window. "I came here to get help, and that's nothing to be ashamed of. The staff is great at making you feel completely comfortable. I really appreciated that."
Gary wasn't the only one having a good time while he was here. Staff took quite the liking to him. "We love all of the residents and clients that come here, but Gary has this really vibrant personality, he's so positive, and upbeat. We had a great time with him," said Kasey Batterton, Occupational Therapist.
Gary is now ready to get back to his life at home with his wife, go back to work, and continue improving his health. "I'm really going to miss this place. I almost didn't make it. These are the people who brought me back to life. Not only physically, but mentally too. It's an experience I'll never forget."
If you would like more information about the services we offer, please click here.