Giving Back Brings Joy to Volunteers and Residents
Giving Back Brings Joy to Volunteers and Residents
Posted March 16, 2017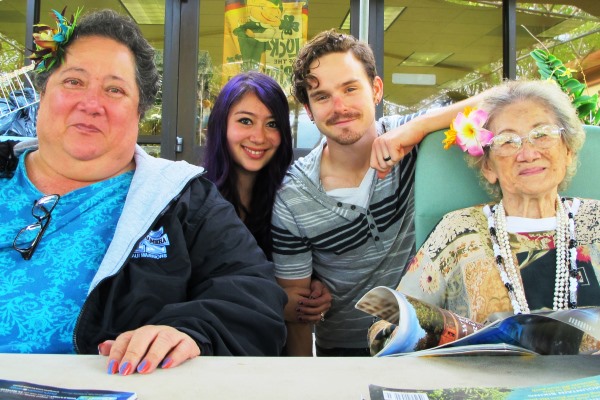 If there's one thing twenty seven year old Jesse Joseph is passionate about, it's art. Graduating from UH Manoa with a Bachelor's in Art, Jesse didn't exactly know where it would take him but he did know that he wanted it to be meaningful and make a difference. Jesse had a vision of doing Art Therapy for quite some time "there was a program at the university that allowed students to go to the hospital and do art with the patients, I never got to do it but I really wanted to". Jesse reflects on how even though he didn't get to participate in the program, it was still very touching, so his wife suggested coming to Hale Makua to see if residents would be interested in doing art with him. He quickly went through the volunteer process and started the following week. Staff immediately connected with him and began scheduling him to come in every week.
Residents adore their Thursday morning art sessions with Jesse just as much as he does. Jesse shares, "It's been one of the best things I've done in a long time. I love feeling like I'm making an impact on the lives of others, it's a feeling you can't get from anything else".
Interested in learning more about Jesse's new found passion, his wife, Akane, visited Hale Makua to see firsthand what was bringing such joy to her husband's life. "Jesse was coming home every Thursday so excited and inspired, I wanted to get that same feeling too!" Akane started coming in with Jesse on Thursday mornings and says she doesn't see an end in the future. "The sweetness is contagious, it makes me so happy to see everyone smiling. You just never know what to expect each week, and that's really cool!" Akane's grandmother was a resident at Hale Makua years ago before passing away and she said, "I just wish my grandma could be here to experience this, she would have loved it".
Pictured above, Jesse and Akane stop for a photo with residents Melissa Miyamoto and Olive Silva on a recent vist.
Its experiences like this that remind us what an incredible community we are a part of. Volunteers young and old teach us the value of giving back, being selfless and share our gifts and passion with others. "Being a part of the community is something we'll never give up, the feeling is just too great!"