Greg Finds Happiness in Care Homes
Greg Finds Happiness in Care Homes
Posted July 23, 2019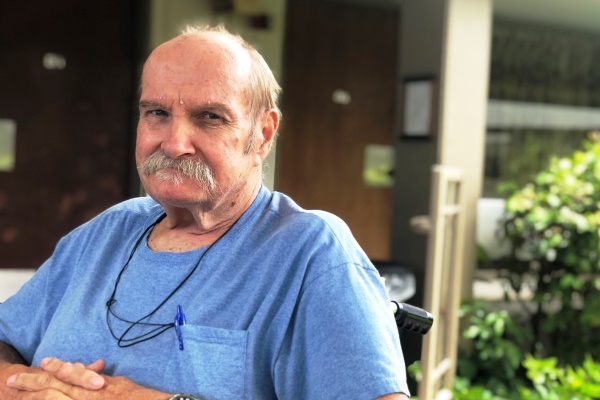 Greg Riley has been a resident at our Care Home in Hale Makua Wailuku for just over a year, and has found his comfort in doing things that make him feel good. So when he gets to choose his daily activities, he chooses things like, playing guitar and ukulele, in particular on Friday's with a music group who comes to visit residents every week. He also helps with sharing the morning announcements over the PA system, and calls out Bingo numbers every week.
"I like to do things to help out the other residents, I'm the PA guy, I guess I kind of have been my whole life, I just have the voice for it." Greg says he really enjoys the activities that are provided by the Activities team at the Wailuku nursing home. "They do a good job. There's a good variety of things going on, and I like that as a Care Home resident, I can just go over and participate in whatever they have going on."
The Care Home offers moderate assistance to the residents who live there. Greg says, whenever he does need a little extra help or care, the staff are always fast and courteous. "I know that we're here for a safe environment and minimal care. For the most part I never really require that much assistant with anything, but any time I need help, someone comes right away. They are very friendly and kind, and always with to help with whatever I need. Another thing that really impresses me is how clean and well-kept everything is here. We always have clean towels and sheets, empty trash and clean floors. The housekeeping team is really fantastic."
In addition to the Care Home, Greg has use rehab services, and was eventually discharged back to his home after receiving the therapy he needed. Greg gushed about the therapists in our Rehab by Hale Makua program, saying "they're persistent, caring and go the extra mile to make sure you're going to be completely safe when you get home."
Care Homes by Hale Makua offers around the clock supervision and a safe place for individuals to live who require minimal to moderate care. For more information about this program click here.