Health Benefits of Furry Volunteers
Health Benefits of Furry Volunteers
Posted April 12, 2016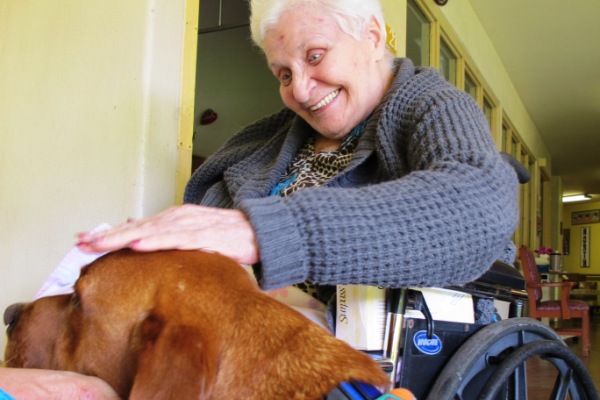 Something magical happens every time Melodie Ulman and her beloved dogs enter our homes. The environment is happier, there are more smiles and laughter, everyone is more cooperative, and there are more positive interactions. Melodie and her dogs have volunteered at Hale Makua Health Services for eight years offering therapy, healing and joy to residents and staff.
Melodie is an Evaluator and Instructor for Pet Partners which allows her to train individuals looking to have their dogs become therapy pets. Melodie's team of super dogs include Dawson, who is being pet in the photo above by Gloria, a gentle and loving dog that is a favorite of many of our residents. Her dogs spend time in each neighborhood where residents and staff get one-on-one time to pet, hug, and talk to the dogs and Melodie. These interactions, no matter the length of time, break up the daily routine for residents and staff and helps everyone maintain a positive attitude, which is key to good health and happiness.
The faces of our residents light up when they see these four legged volunteers walking through the halls. Melodie says she lets her dogs lead the way because, "they are so intuitive that they know who needs them most at any given time. I have learned to trust their instincts and follow them as we visit instead of trying to steer them."
The healing benefits of pet therapy to our kupuna's (elderly) overall health are astounding. Interactions with pets reduce overall stress, encourages communication, reduces anxiety and depression, decreases loneliness, calms agitation, and increases mental stimulation. It also provides our residents with an opportunity to give care thus fulfilling a basic human need to love and be loved.
As part of our Eden Alternative Journey to create quality of life for Elders, Eden Principle 2 states "an elder centered community commits to creating a Human Habitat that revolves around close and continuing contact with plants, animals, and children. It is these relationships that provide the young and old alike with a pathway to a life worth living."
As we celebrate National Volunteer Week this month, everyone at Hale Makua Health Services extends our deepest mahalo to all of our volunteers, of every shape and size, for their dedication and compassion to help care for those we serve.