Honoring Our Veteran Heroes
Honoring Our Veteran Heroes
Posted November 14, 2017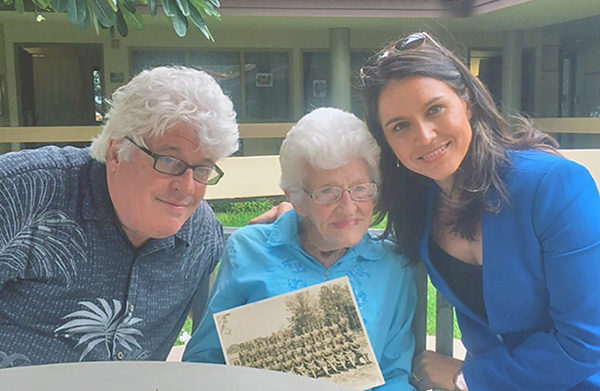 For over 30 years Halau Na Pua O Kapiolani has been coming to Hale Makua to perform in honor of Veterans Day. Our Veteran heroes are greeted with a lei and thanked for their service, and then treated to a lovely Hawaiian lunch. After the show, the Veterans gather for a group photo. This year among the group of Veterans was 95 year old Ruth April, pictured above with her son Jay April and Congresswoman Tulsi Gabbard.
Ruth served in the Marines in 1943, and was among some of the first female Marines who served during World War II. Ruth and her best friend Helen decided to join together, and were surprised when they were immediately separated. Ruth found her way without her friend, and over the course of the following three years worked in various areas, some she loved, and others she loathed. Eventually met her future husband who she had five children with. After her time in the Marines, Ruth worked at a nursing home, where she went around to meet with those in need of a listening ear and an open heart, something Ruth prides herself on being able to give. "It was my favorite job. I'm a people person and a great listener. I would go around to whoever needed me and just listen, I wasn't much help other than that, but I loved my job."
In honor of her service to our County, on Veterans Day, Ruth had a very special visitor all the way from Washington D.C. Hawaii State Congresswoman Tulsi Gabbard came to pay respects to Ruth for her time served in the military and hard work over the years. "It was a lovely surprise, she was kind, warm and so thoughtful, I mean she's a Major and she came to say "thank you" to me? I was honored" says Ruth.
Ruth came to Hale Makua for rehab a few weeks ago after a fall at home, and she couldn't be happier with her experience here so far. "The people are good, the food is good and the care is good. I mean, what more could you ask for? Everyone has been so considerate and kind, I feel like they really love their job just by the way they've been caring for me." Ruth also shared that one of the best parts about her stay at Hale Makua so far is that the care partners are all willing to give their time and attention to each person. "They talk to me like they care, they aren't rushed on uninterested, they seem to really care, that's so important to me. I would highly recommend Hale Makua, and I wouldn't say that in less I meant it. I mean, my name is Ruth and I tell the truth.".
We are grateful for all of the real super heroes who have served our country and appreciate the opportunity to give care to those who are in our homes.