Hope Chapel Continues to Spread Aloha
Hope Chapel Continues to Spread Aloha
Posted August 21, 2019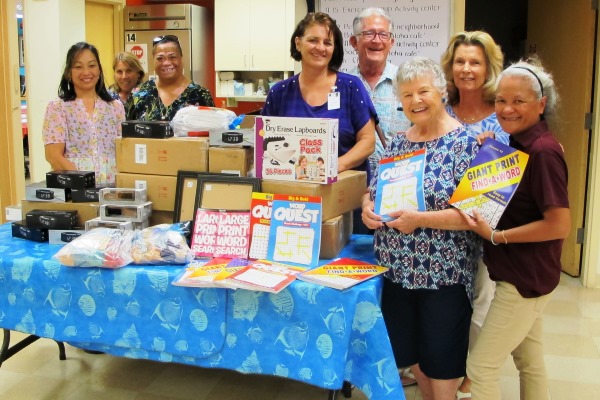 Claire Burke, a member of Hope Chapel and a long-time supporter of Hale Makua, made a formal request nominating Hale Makua as one of 12 missions Hope Chapel selects annually to support. The chosen missions include a variety of programs and organizations throughout Maui, but tries to focus on programs that assist kupuna and keiki. It is one way Hope Chapel gives back to the community. Support is given in different forms from monetary, volunteer time, or in-kind donations. After a year and a lot of follow-up and advocating by Claire, Hale Makua was selected as one of the missions for this year.
From Claire's hands the request fell into Kuuleilani Weathington's hands, who coordinated the mission, which included finding out items our residents need most, purchasing the items and delivering items to Hale Makua. The donation was delivered on Friday, July 26th, during the Bible Study group led by Hope Chapel and Claire Burke. Kuuleilani, Claire and friends excitedly helped to unpack the numerous boxes that were filled with socks, alarm clocks, word search books, crossword puzzles, picture frames and much more. Teresa Lopes, Activities Director, expressed how much our residents will enjoy receiving these items. Kuuleilani said, "I was raised with the understanding that kupuna is important and most respected in our community. If they are in need, then it is our responsibility to give." Hope Chapel is able to support Hale Makua and other organizations through the generosity of its members and their tithes and offerings.
Claire Burke has supported Hale Makua for more than 30 years and does not plan on stopping any time soon. Claire started the weekly Bible Study group for our residents at both of our campuses. The Bible Study groups, which are well attended by our residents, are uplifting with music, worship, and religious studies. Mahalo Claire for continuing to fulfill the needs of our residents, Kuuleilani for coordinating the donation, and Hope Chapel for honoring our kupuna.