Josh Ooka Meets History Day Hero at Hale Makua
Josh Ooka Meets History Day Hero at Hale Makua
Posted September 22, 2017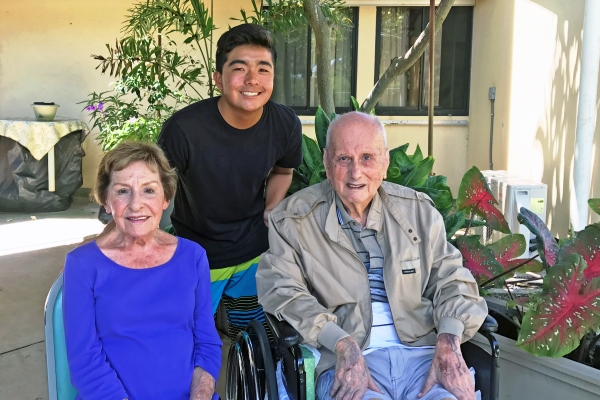 This summer we were fortunate to have students from Baldwin High School's SCHWA Media Club produce a short video about our programs, and interview a few individuals who've used our services. Among those interviewed was long-term care resident, Edward Nishihara.
Josh Ooka, a Baldwin High School Junior who helped with the audio portion of the interviews, was thrilled to meet Mr. Nishihara. Earlier this year Josh, his sister Nikki and one other classmate participated in the National History Day competition where they performed in front of judges their project, "The 442nd Regimental Combat Team: A Tribute." Josh said, "We originally created the project for a grade in history class, but it grew into something bigger. We started at the district level with the Maui History Day Competition, moved up to the State level, and then on to the National competition in Washington D.C where they finished 4th!.
The group selected the project because they were all of Japanese ancestry, and Josh and his sister Nikki had family ties to the 442nd Regimental Combat Team (RCT). "We felt this topic was meaningful because of the prejudice and types of discrimination Japanese Americans had to endure during World War II. The main scene of our performance was a grandfather/granddaughter conversation sharing the stories and sacrifices of Nisei Veterans along with background information on Japanese Americans during WWII. Our purpose was to share the story of Nisei Veterans and the 442nd RCT and the legacy they created as we feel it is beginning to get lost in history."
Josh shared how honored he was to meet and talk story with Mr. Nishihara, "Before this project, I didn't really know much about the role they had played in WWII and their significance in the war. Previously, I had only met one other Nisei Veteran, Hiroshi Arisumi, and now take as much time with every other one I meet because they are all getting old, so meeting with one of them is very valuable. I remember in his interview he was explaining one of the campaigns he did to rescue the Lost Battalion in the Vosges Mountains and that was really cool because that was one of the campaigns we chose to elaborate on in our performance."
It's not every day that we see young people so interested in historical events like this and even more so excited about meeting those individuals who were a part of history. We are honored to have had Josh visit, hear his story and be a part of his meeting with a WWII hero.