Kingston's New Found Happiness
Kingston's New Found Happiness
Posted October 18, 2023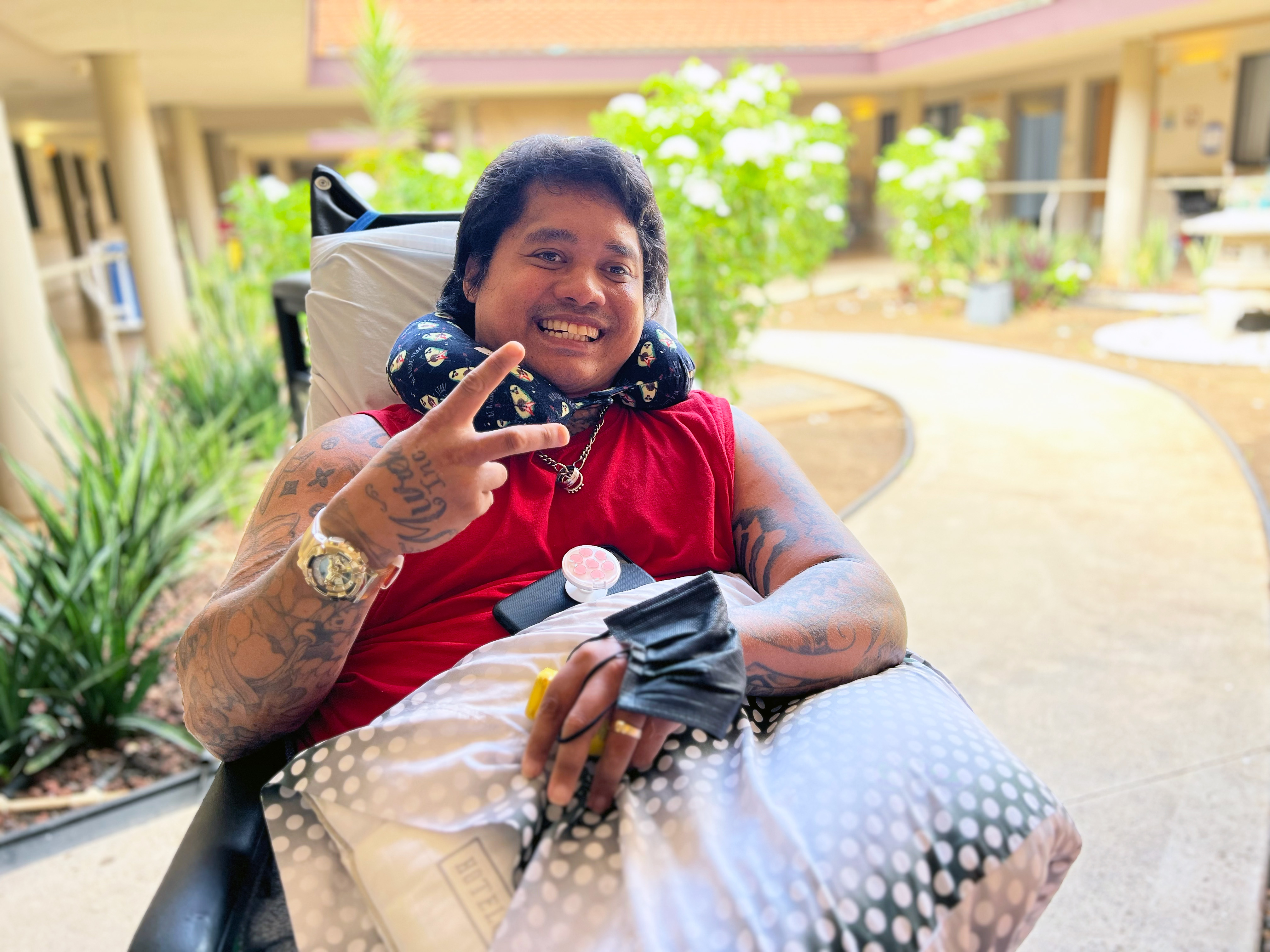 When you think about Hale Makua, your first thought is that it is the place where kūpuna go to receive care. However, that's not always the case. At 36 years old, Kingston Kekaha-Cayaban, is one of the younger residents at Hale Makua. He's a "happy go-go" guy, as he describes himself, always laughing and always smiling. One thing that puts a smile on his face, is his fiancé Rashell.
Growing up, Kingston was in the foster care system and was a bit kolohe. However, he was fortunate enough to have good friends in his life that looked after him. One of those friends had a sister, Rashell.
Rashell shared about how Kingston was always around and staying with them. She said he enjoyed going to the beach to body board, and for work he did a lot of different physical type jobs like painting and landscaping.
A few years ago, Kingston got into a terrible car accident, and suffered a head injury and became paralyzed. He was taken to Queen's Medical Center on Oʻahu to receive care before being discharged to Ann Pearl Rehab and Nursing in Kaneohe. After a while, Kingston wanted to return home to Maui.
About three years ago, Kingston came back to Maui and it was decided that Hale Makua would be the best option for him. Rashell was there for him, visiting him and caring for him. It was then Kingston asked her to marry him.
"I've always loved him," Rashell shared. She said her response to his proposal was, "Of course! But you've got to work." Rashell encouraged Kingston to continue working hard at his recovery, which gave him motivation.
Kingston does his exercises regularly, and has improved a lot since being first admitted. Rashell shared that he initially couldn't even speak. Now Kingston makes valiant effort to speak to everyone when he can. If people have a hard time understanding him, he patiently types his message on his phone for people to read.
Kingston says he likes Hale Makua, and he enjoys the activities. His favorite activities include bingo and playing cards, especially Rummy. He keeps Rashell up to date on what he's doing by sending her text messages and pictures throughout the day. At night, he likes to go out into the courtyard garden and look at the stars and the moon. He says it's beautiful out there, and peaceful.
As much as he enjoys his time at Hale Makua, he especially enjoys his time outside of Hale Makua. Rashell arranges transportation to bring Kingston home at least once a week so they can spend time together. She also arranges for him to go to King's Cathedral twice a week for meetings and church, which he loves doing.
It is so good to see Kingston thriving under the care of Hale Makua. Despite the challenges he has faced in life, he still finds happiness in the people around him and has a beautiful fiancé who loves him unconditionally. What more could anyone ask for?