LPN Pathway Student Gains Experience in Home Health
LPN Pathway Student Gains Experience in Home Health
Posted March 20, 2019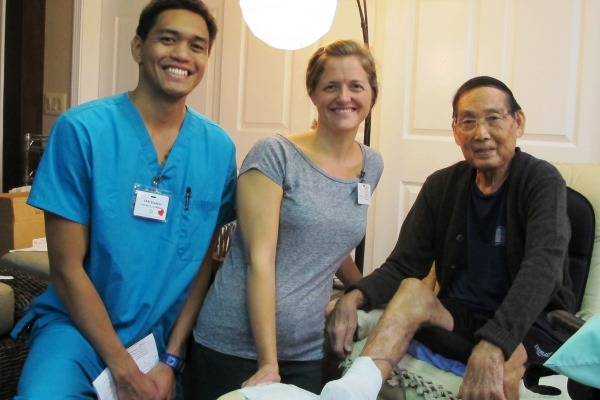 The second class of Licensed Practical Nurse (LPN) Pathway students from UHMC have been hard at work since the beginning of the year, studying, observing and doing clinical rotations. For the remainder of the year, the students will continue learning and gaining hands-on experience, which will launch them into the field field once they have completed the one year course. Recently, student Jordan Nauka took his clinical studies on the road with Kristen Adams, RN, for a visit to one of Home Health by Hale Makua's clients.
Calvin Shibuya has been receiving home health services since September of 2018. Kristen visits Calvin in the comfort of his home three times per week for nursing and wound care. Calvin says "the care is superb I have no complaints. Kristen is always smiling, friendly and helpful." His healing process has been gradual, but with Kristen's help, he sees the improvements and it gives him hope for the future.
While Jordan accompanied Kristen for the home visit, he shared that the best part of being with Hale Makua for the LPN Pathway program was how hands on the clinicals are. "I'm halfway through my clinicals right now, and it's been really beneficial. Especially the rotations at Hale Makua, I've learned so much from being able to be around the residents and staff, and I feel really fortunate to be a part of this program."
In 2018 Hale Makua launched an LPN Pathway in partnership with the University of Hawaii Maui College to provide education and clinical training for those individuals who may not want or be able to complete the schooling needed to become a Registered Nurse (RN). Recently graduated LPNs who are employed by Hale Makua will automatically be enrolled in our LPN Residency program to help in the transition of putting learned skills into practice.
Because of this incredible partnership, students like Jordan, have been fortunate enough to see firsthand the compassion and commitment that our team of nurses have for individuals in our community like Calvin.