Making Hale Makua Home
Posted December 02, 2016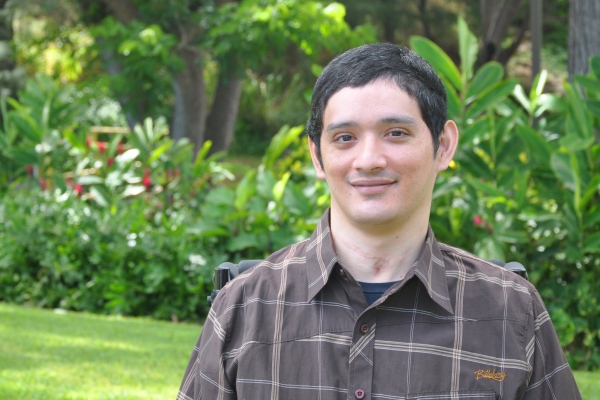 Alvin Keohohina does not look like the typical resident you find at Hale Makua mainly because he is not elderly. Alvin is 32 years old and has made Hale Makua his home for the past ten years. At 22 years old, Alvin was in a car accident that rendered him unable to care for himself and live without round-the-clock assistance. Seeing the burden caring for him placed on his family, he selflessly chose to move to Hale Makua upon learning Hale Makua provided long-term care for people of all ages, not just elderly. Within two weeks of contacting Hale Makua, Alvin moved into his new home.
Alvin has many reasons why he likes living here, the most important being the 24-hour care he receives from qualified medical staff. He says, "That alone has allowed me to live comfortably for the past ten years without worry." He has had the opportunity to attend college at UH Maui College, and can be found in the gym exercising daily and at the weekly Bible study group.
Life wasn't always great, though. Shortly after moving here, Alvin had difficulty coping with the changes in his life and he went through a period of depression. He stopped attending college and chose not to participate in any activities. Alvin did not leave his room for about five years. He finally left his room to visit his grandfather who was admitted to Hale Makua Kahului. He really appreciates the time he got to spend with his grandfather before he passed away. Alvin had many questions about life and a friend of his encouraged him to read the Bible, which he did and it changed his life. He attends Bible studies once a week because it is an important part of his life that has given him a positive outlook.
Alvin may not have been very sure what to expect when he decided to move to Hale Makua ten years ago. Now if you ask him, he will tell you he has found a support system of staff and friends, the freedom to participate in activities of his choice, and people that genuinely care about him and his well-being. He has found a home.
Hale Makua Health Services provides programs for people in all stages and ages of life. Please call (808) 877-2761 or visit our website for more information about one or all of our programs: Adult Day Health, Care Home, Home Health, Long-Term Care, and Rehab.