Nelson Lives to Ride Again
Nelson Lives to Ride Again
Posted July 21, 2016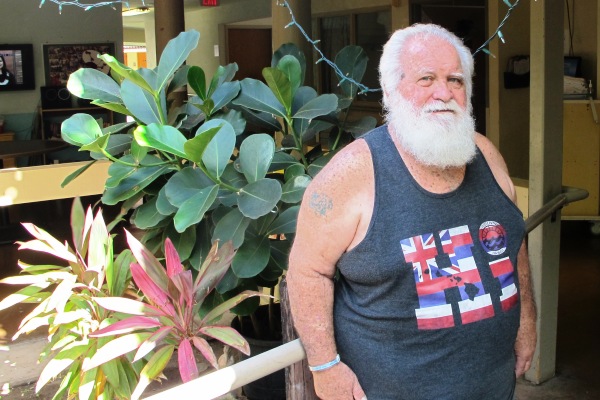 It's plain to see that Nelson Jacintho is very loved by his family. When he suffered a stroke that placed him at Maui Memorial Medical Center and then at Hale Makua Health Services for nursing and rehabilitation services it was no surprise that his family was by his side the entire time. Their constant support and his own determination gave him the strength he needed to achieve his goal to walk out of Hale Makua without the use of assistive devices, or mobility aides, such as wheelchairs, walkers, scooters, or canes.
Of course, Nelson did not do it alone. He had a team of physical, occupational and speech therapists from Rehab by Hale Makua guiding him step-by-step to recovery. After four days at the Hospital, Nelson arrived at Hale Makua Kahului. He couldn't walk or move his left arm, and feared that he wouldn't be able to ride his Harley or carry his granddaughter again. After three weeks of hard work, physical therapy that focused on getting Nelson walking and occupational therapy that worked his left shoulder, he was ready to go home.
Reflecting on his stay at Hale Makua, what Nelson (and his family) enjoyed most was the food. Their favorites included char siu chicken, pork adobo and a Hale Makua original recipe, corn flake chicken. Nelson and his family continued their family tradition of having dinner together, but instead of Nelson doing the cooking, his family was able to order dinner from our kitchen and have it delivered to Nelson's room every evening.
In addition to the food, the Jacintho Family shared their pleasure with the excellent care that all of the staff provided, from the nurses and therapists to the staff in the kitchen. They appreciated the fact that they could come and visit whenever and for however long they wanted to since Hale Makua doesn't have set visiting hours. During the day, Jean, Nelson's wife, would come accompanied by his granddaughter, Azalea. Other family members would come in the evenings when they finished work. If Nelson wasn't having therapy, he could always be found surrounded by his family.
Equal parts care and support of a loving family, a team of healthcare professionals, and hard work and determination got Nelson on his feet again. We couldn't be more happy to help another individual get back to their own home, and assist Nelson in his recovery to be able to ride his motorcycle, carry his granddaughter, and cook for his family again.