No Substitute for Genuine Caring
No Substitute for Genuine Caring
Posted November 24, 2013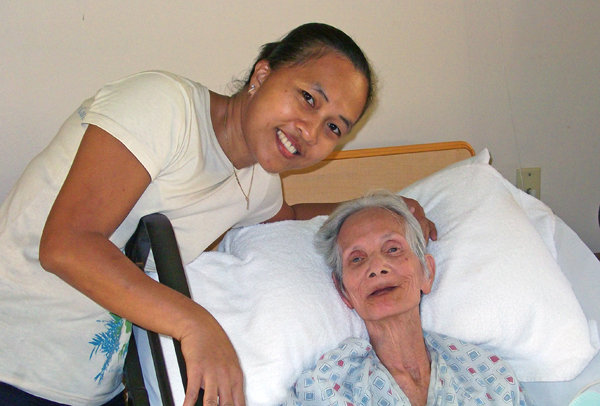 Care partners Karen Seguritan and Leo Morales usually see resident Rose Ah Sam outside enjoying the sunlight on the West Neighborhood. When they didn't see her for a few days, they became concerned and went to check on her.
Karen and Leo asked how she was feeling and why she hadn't been outside. Mrs. Ah Sam said that she did not feel very good. Karen and Leo asked if there was anything that would make her feel better. They asked if there was a special food that she would like to eat. Mrs. Ah Sam said that she missed eating bitter melon and pork.
Bitter melon and pork is a traditional combination in Chinese cooking. The dish takes a long time to cook and the flavor is unusual so it is not something that the kitchen would normally make.
After consulting with the nursing care partners and the Nutrition Services Director Saundra Gaskey, the care partners found bitter melon and cooked it with pork. Mrs. Ah Sam was excited to eat the dish again. In the photo, she is smiling with Leo Morales at her side.
This story illustrates Eden Alternative Principle #7 "Medical treatment should be the servant of genuine human caring, never its master." Care partners recognized that Mrs. Ah Sam needed caring in addition to medical care. The joy of eating the special dish and sharing it with people who cared enough to make it demonstrated the presence of "genuine human caring."