Treasured Resident Artist
Treasured Resident Artist
Posted May 19, 2015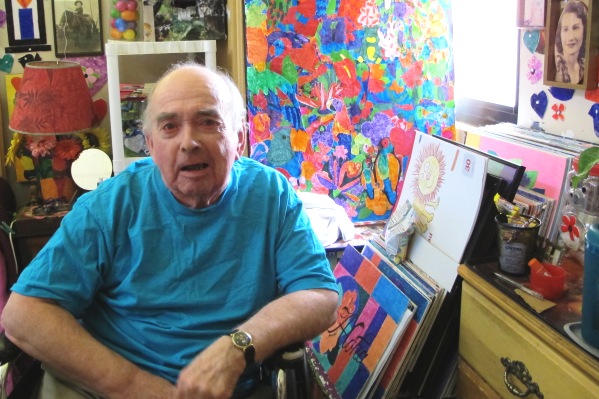 James Miller lives his life in bright colors as seen in his many pieces of artwork. James began drawing and painting as a young boy. He enjoyed art and thought his work was pretty good. He didn't know how good it was until family and friends saw his artwork and asked to buy it. As an adult in the Navy, James continued to draw and paint the different sights and places he visited as a way to share the world with others.
James was diagnosed with Parkinson's disease later in his life, and needed to move to Hale Makua. He gave up art thinking it was impossible for him to do because of the degenerative disorder, although he loved it so much. His passion for creating art did not disappear and after encouragement from his aunt, James decided he would try painting again.
While at Hale Makua, he saw an old canvas with a worn and faded painting and asked if he could have it. James quickly got to work painting, bringing the old, used canvas back to life. After many long hours, James completed his painting (pictured behind James in the above photo). It now hangs in his room and serves as a reminder that he is still able to accomplish so many things. Since then, James has created many more pieces of art. They cover his walls brightening up his room and bathroom. The long hours he spends painting and drawing gives him great joy!
James' artwork is displayed at the monthly craft sales at Hale Makua Kahului where he has select pieces for sale. We invite the community to find out more about James and his love of art or other residents whose talents and stories are like finding a treasure chest. You're not sure what you'll find, but it is worth it.