Proud to Serve
Posted November 11, 2020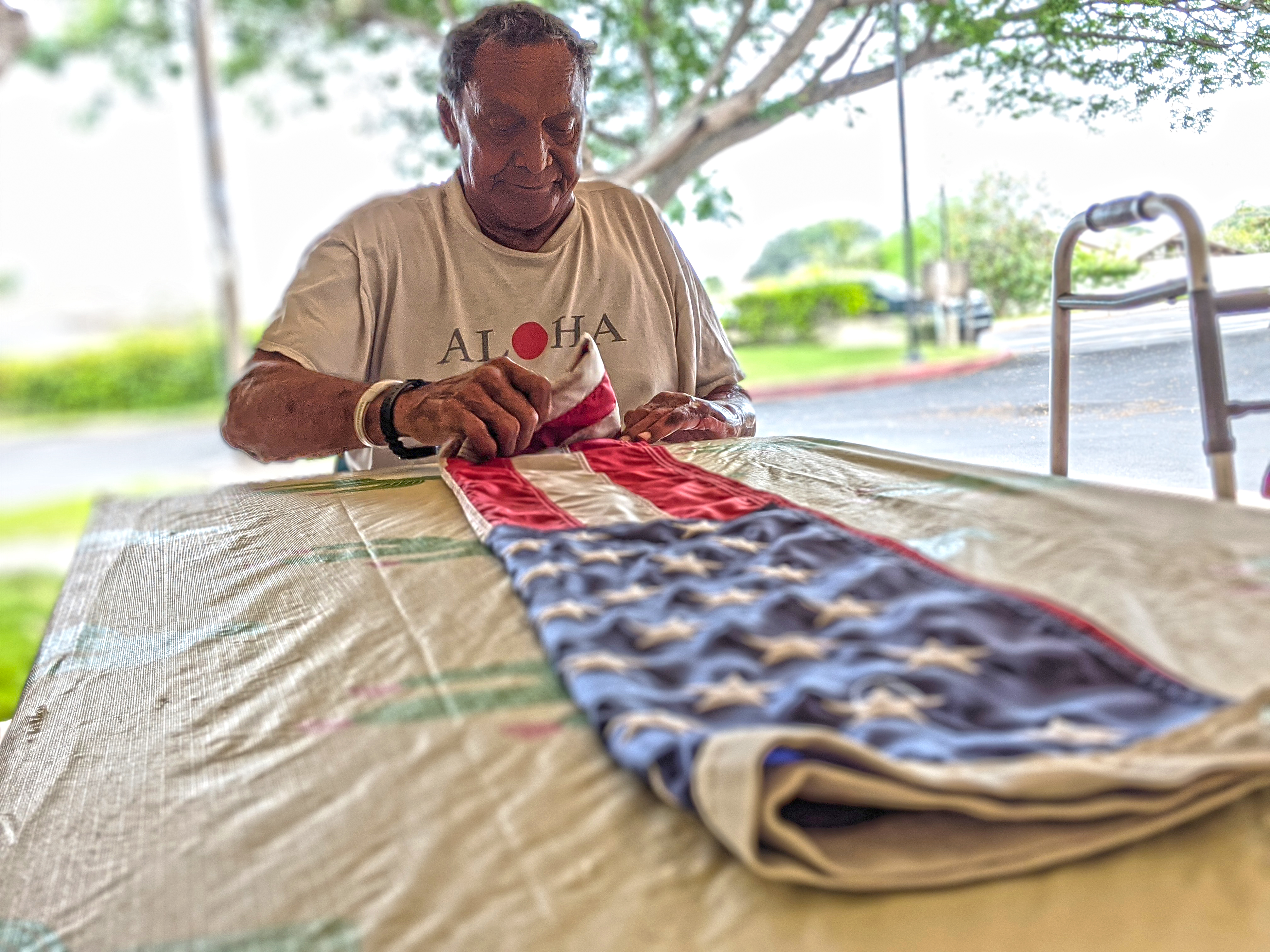 You may have seen him on our Kupuna Pastry Kitchen video or in pictures on our newsletters or social media posts. 'Who is he?' you might wonder. Danny Kanahele, or "Uncle Danny" as everyone calls him, is well known around Hale Makua Kahului for his heart to serve others and for his unforgettable aloha spirit. Every day, he makes his rounds on his leisurely walks, greeting everyone as he passes by. Several times a day, he goes to work tending to the flowers and vegetables growing in the nursing neighborhood garden. He also has another very special role here that holds a great deal of significance to him. Twice a day during his walks, he makes his way to the flagpole out front where he raises both the American and Hawaiian flags, and in the evenings he returns to take them down and carefully folds them in a triangle as he had done many times as a proud color guard for the Veterans of Foreign War.
As a young U.S. Army soldier in 1968, Uncle Danny was deployed overseas to fight in the Vietnam War. When he first arrived, he remembers how scared he was until one day he said to himself, "to hell with it" and accepted that his fate was out of his hands. He recalls one night he was at a military club when an air raid hit. "You can hear the rockets bombing, BOOM, coming in, everybody running… So, I go drink their beer," he laughs. "Why you go run? We goin' get hit with that."
Though he survived the war, he did not go unscathed. He once got blasted during a rocket attack, and when he woke up he was in the 29th EVAC military war hospital. After recovering, he was sent right back in to fight. Other physical ailments he suffered from the war was a result of toxic exposure to Agent Orange that still affects his body to this day.
When he returned home from Vietnam, he and fellow comrades were not well respected or recognized because of the strong opposition Americans felt towards the war. It wasn't until much later did Uncle Danny say he and other local Vietnam veterans receive recognition. Despite it all, he says war was the best experience that taught him about life. He is proud to have fought for his country and he even became a commander of the Veterans of Foreign War color guard so he could ensure veterans received their military memorial honors.
Aside from having served his country and fellow veterans, he continues to serve people here at Hale Makua in his own special way. Residents light up when they see him passing by and employees adore him. The staff are always so amazed and appreciative of how he can motivate other residents, keeping them company and encouraging them to do their rehab or exercise. Uncle Danny shared, "I remember I used to go exercise and some grandma is next to me. I watching um, they just sit there. I say, 'Grandma, look. Me and you. I go make wit' you. No worry, take your time.' Before you know it…I get um going."
It is truly the people that gives Uncle Danny the happiness he found at Hale Makua. Veterans Affairs (VA) pays for his stay here, and after gaining strength after an injury, the VA offered to move him to a luxurious assisted living facility that would provide him with more independence. He humbly declined, saying, "I'm happy right here. They take good care of me. Why should I leave? My heart w'en fall in love with [Hale Makua]." Well, we love you too, Uncle Danny.
A big mahalo to Uncle Danny for sharing his story with us and for bringing so much joy, pride, and aloha to our facility. At Hale Makua, we are proud to care for over 40 veterans at our facilities who we will honor this Veteran's Day. Thank you to all our great military heroes at Hale Makua and all around the world who have made sacrifices to serve the people of this great nation.